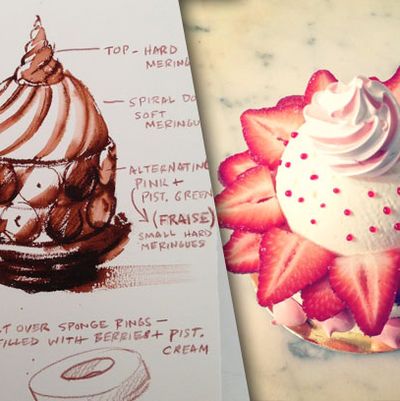 Will Cotton and Dominque Ansel like to challenge each other.
Photo: Courtesy Will Cotton (left), Dominique Ansel (right)
Fans of artist Will Cotton's recent meringue- and fondant-trimmed outfits for "It" girl Elle Fanning in New York's Spring Fashion issue will no doubt be overjoyed to learn that patisseries also adhere to seasonal looks. Even the stodgiest croque-en-bouches haul their choux all over town for Fashion Week, and "It" cakes, in fact, exist. To wit, here's Will Cotton and baker Dominique Ansel's take on the traditional Fraisier, a fresh strawberry and sugared egg-white dynamo, now available for preorder at Ansel's Soho shop.
The superstar Ansel, who was also just named a 2013 James Beard Award semifinalist, collaborated previously with Will Cotton on some sugar-ribboned headgear. And in addition to his high-calorie high fashion, you may know Cotton's work from the macarooned, gummy-bear badlands he created for Katy Perry's "California Gurls" video.
(Meanwhile, turning dreamy food designs into actual food seems to be catching on: Katy Perry announced that "after a month of practice," she's finally learned how to make her own latte art.)
Like many works of art, the limited-edition Fraisier started with a sketch, and Ansel, no stranger to creative challenges, went through about four prototypes before settling on this version, made with alternating almond sponge layers separated with pistachio bavarois and kirsch-macerated strawberries. The base is studded with meringue, strawberry spokes turn it out, and its top is a tricky-to-master solid whipped cream dome with jam speckles. The finished cake is four inches and serves four to six; it's meant for ogling first, then eating, and costs $38.00. Because the bakery needs time to set the mousse, spray the white chocolate, oven-dry the meringues, and generally make the pastry magic happen, it needs 48 hours advance notice. For now, at least: Ansel tells Grub Street he'll be making miniature versions of the strawberry cake, which will be readily available on Spring Street in about a month.
Earlier: Portfolio: Will Cotton's Elle Fanning Fantasia [Cut]
Related: Watch Dominique Ansel Make Religieuses for All Seasons