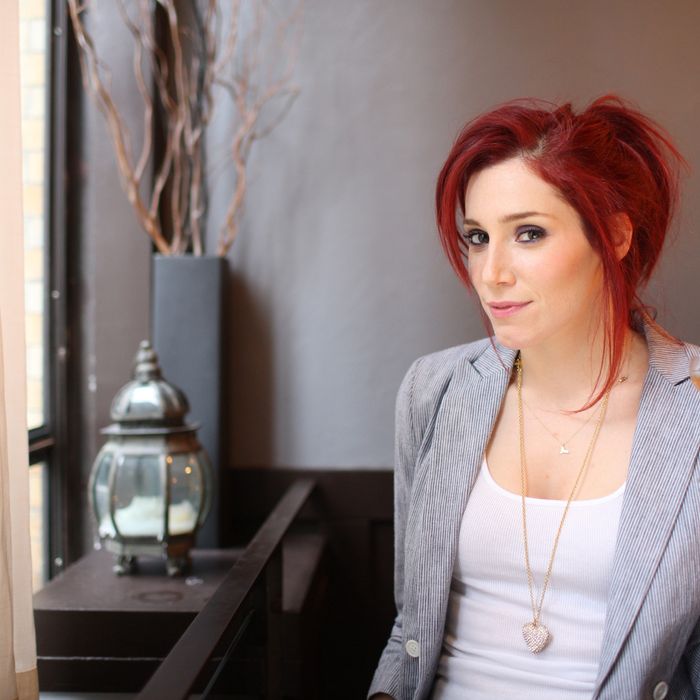 "I drank 700 glasses of Champagne and said good-bye to the juice cleanse."
Photo: Melissa Hom; The Dalloway
Julie Potash, a.k.a. Hesta Prynn, the singer/rapper/writer who started her career in the all-female hip-hop group Northern State is a very busy lady who is still figuring out how to manage her career and treat her body right. When she's not ghostwriting rhymes for the biggest artists on the radio or D.J.-ing for Spotify and Steven Alan, she's working on, well, herself, by juicing and rebooting, and sometimes chowing and boozing. Read about her chocolate "green" smoothies, caramelized grapefruit, and confusion at Carbone in this week's New York Diet.
Friday, March 15
I was finally home after a week of nonstop travel culminating at SXSW, where I did nothing but eat tacos and drink Bud Light, so I promised myself I'd stay in bed all day — and that if I ever left the bed, I'd eat clean foods only.
 
That lasted until noon, when my fiancé, Randy Scott Slavin, made me a giant iced coffee with whipped cream, which he makes me every morning. He also made me a spinach and Swiss cheese omelette.
 
I remained in my pj's and, later on, Randy made turkey meatballs with kale in them. He tries to cook, which is totally endearing and I should be more grateful. In other words: They were pretty gross.
 
Dragged myself to a 9:30 reservation at Carbone with some new food-obsessed friends. Because I hang with thugs, not foodies, I couldn't understand what everyone was so entranced by. It was definitely delicious and I felt fortunate to be there, but no need for a dissertation on, like … mozzarella-cheese sticks. I left early and re-promised myself a few days of clean eating.
 
Saturday, March 16
Iced coffee with whipped cream, and an omelette, care of RSS. Then, because of this Diet, we were all food-conscious and decided to watch Fat, Sick & Nearly Dead and then Forks Over Knives. 
 
Schizophrenically, over leftover meatballs and a frozen Amy's pizza — I'm a native fucking New Yorker, can you believe it?? — we debated if it was acceptable for me to go on a full juice cleanse smack in the middle of my birthday week. 
 
We continued the conversation at dinner at the Hurricane Club, where I drank a rum cocktail out of a pineapple, and Kidd Kraddick and I pondered whether a Xanax can or cannot be juiced. We shared amazing miso cod, braised short ribs, and fried rice. I took the group to 16 Handles for "birthday cake" with mini M&M;'s. My favorite dessert, always and forever.
 
Sunday, March 17
Sick of being all talk, I woke up and immediately went to Bloomingdales to buy a juicer. The juice cleanse was officially on.  
 
We went to Whole Foods and spent roughly $70 on kale, Swiss chard, beets, mustard greens, etc., which resulted in half a glass of unappealing juice. 
 
By noon and another overpriced bag of produce, everything in my kitchen was covered in beet pulp. By 3 p.m. I had four juices, watched five episodes of The Walking Dead, and was in the bathtub picking celery bits out of my hair.
 
Three more juices later — orange, red, and green — we were wrapped in blankets on the couch, using heating pads and throwing around words like detox and reboot like it was an AA meeting without the cigs and coffee. A friend came over and I served him baked beet pulp. Revolting. 
 
Monday, March 18
Time to get back to business, even though it's two days without coffee and I'm fiending. We had orange juice for breakfast — sweet potato, ginger, orange, and bell pepper. Mmm. Not really.
 
Power lunch at Maysville with my agent and manager, where I ate Brussels sprouts and a plain green salad. My manager ate the most amazing smoked whitefish mousse and oysters, and my agent had a grilled fish sandwich. I was tweaking and couldn't stop thinking about raiding Russ & Daughters, then Salvation Taco, then 16 Handles, then the world.
 
I went home, where Randy was continuing to "juice the rainbow." Liquid dinner was at my brother's apartment in Tribeca, where my nieces declared green juice "nasty" and my hair "a mess." Indeed.
Tuesday, March 19
Day three sans coffee and I am officially ready to take my own life. Randy is complaining of aches and pains. We choke down red juice — beets, ginger, garlic, red kale — for breakfast. 
 
I headed to Williamsburg for a meeting with Ryan Star at Tiny Empire for a midmorning juice. The girl working the counter told me she'd seen my dazed look on many before; one woman came in after a ten-day water fast!!! I'm not sure if these are my people.
 
For lunch, I headed to Rucola in Cobble Hill with Daryl K to discuss the event I'm D.J.-ing for her and Steven Alan. I ate an herb salad with fresh lemon and eggplant caponata, which I was told had no milk or meat. Delicious. The place had a great ambiance and the music was good, which was important to me. 
 
I raced back to Manhattan to prepare for a corporate event at Rosewood. By 8 p.m. I was one hour into my D.J. set and feeing like I was going to faint. Randy ran out and came back with coconut water and kale chips, which I housed in the D.J. booth. 
 
Then I got through the second hour and then we headed over to Caravan of Dreams to sort of … break the fast. We shared live nachos, udon soup, and a chocolate smoothie, which was bright green. Coincidentally, we were seated next to Judah Friedlander, who we had challenged to a Ping-Pong tournament a week earlier. Much shit-talking ensued.
 
Wednesday, March 20
My birthday! I've decided that juicing is a bitch and maybe I'll just be vegan. I'm sorry to be that girl. It's just that with my increasingly insane work schedule, I'm desperate to find more balance. Who isn't?
 
Then … balance found me (!) at the Smile for brunch. I had a potato-leek soup, then their famous kale salad, which I actually felt was too bitter or something, and a beautiful mound of perfectly seasoned sugar snap peas.
 
The staff brought out a grapefruit with caramelized sugar and a candle in the middle. I made a wish … it might have been about me and Randy; it might have been about pepperoni pizza. You'll never know.
 
My friends threw me a killer party at Goldbar, where Miss USA brought out cupcakes in a bikini, Vinny Cha$e performed, and Pittsburgh Slim sang "Skinny Bitches Have More Fun." I don't know about that … but I certainly had a blast. I drank 700 glasses of Champagne and said good-bye to the juice cleanse. No better way to retox!