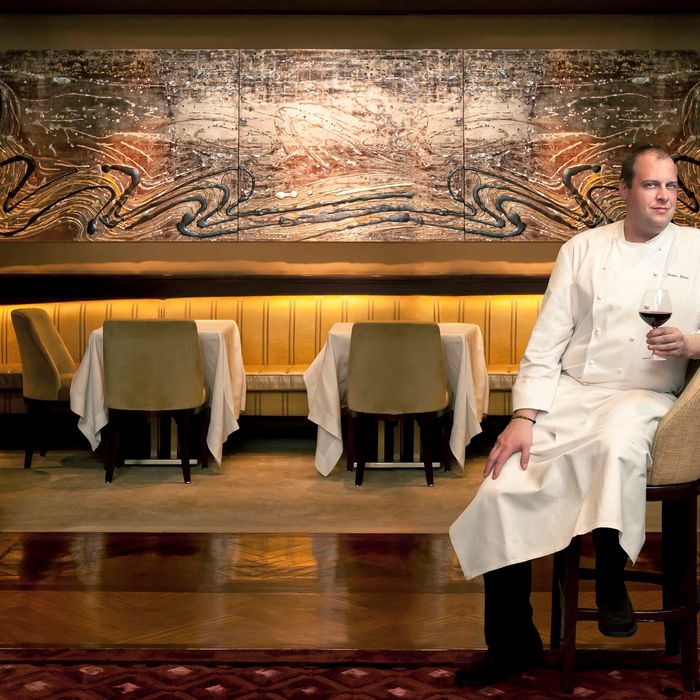 Elena: Coming back to NYC.
Photo: Luke Townsend
That rotating guest-chef collaborative series between Food & Wine and the St. Regis Aspen Resort, which started up last year, will soon expand to New York and San Francisco, the New York Times reports, with former Adour and Alain Ducasse at the Essex House veteran Didier Elena working the traveling pass, as it were.
Elena, who began working for Ducasse as a teenager and stayed on for more than two decades, left Adour last February, nine months before it closed in the St. Regis New York. In Aspen, the Times reports, Elena has just been tapped to run the 78-seat restaurant, which enlists Food & Wine-lauded guest chefs for six-month residencies of a sort that typically involve special menus and classes. (Matthew Lightner and Jonathon Sawyer are currently on deck; Elena adapts the chef's recipes and runs the kitchen.)
Though no timeline has been announced, Elena will also take the Chefs Club to San Francisco and New York. Food & Wine editor-in-chief Dana Cowin tells the paper that the magazine is playing an active role in the project, selecting chefs and "scouting locations" on the East and West Coasts. Meanwhile, investment banker Stephane De Baets, one of two of the project's principals, says that the combination of a Michelin-starred chef and an ever-changing roster of emerging talent is a highly scalable model. "New York will be our flagship for what we hope will eventually be a global enterprise," he says.
To Join This Club, Be a Star [NYT]
Earlier: Didier Elena Bids Adieu to Adour
Related: Food & Wine Launches Rotating-Chef Restaurant Concept in Aspen