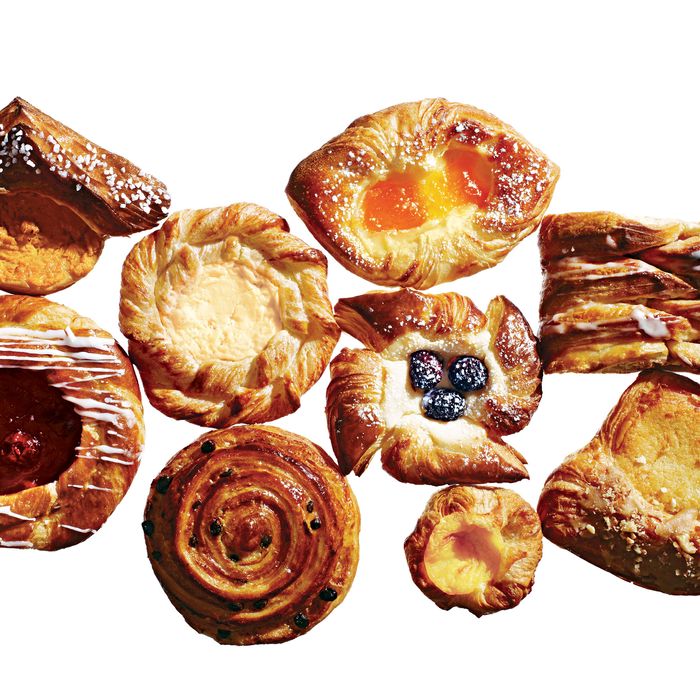 Photo: Victor Prado/New York Magazine
If you're like most people—even most food-obsessed people—you probably don't spend a lot of time, or rather any time at all, thinking about Danish. In spite of their ubiquity, you may not even know precisely what a Danish is: basically reconfigured and gussied-up croissant dough bolstered with milk, eggs, and even more butter. The only problem is that in this town, Danish aren't what they used to be. (In the early 1900s, when one L. C. Klitteng opened the Danish Culinary Studio on lower Fifth Avenue, the pastries were about as popular in New York as Magnolia Bakery cupcakes are now.) Which is why today's foodies do not make bucket lists of bakeries that specialize in Danish. Nor do they argue about who makes the best the way they do about pizza and pork buns and doughnuts. The good news is that it's starting to seem like maybe they should. Our town's artisanal bakers, you see, have been busy giving the Danish a gourmet upgrade, and the time for a full-fledged Danish renaissance has arrived. Here, a look at nine newcomers over which you can begin bickering now.
*This article originally appeared in the April 1, 2013 issue of New York Magazine.