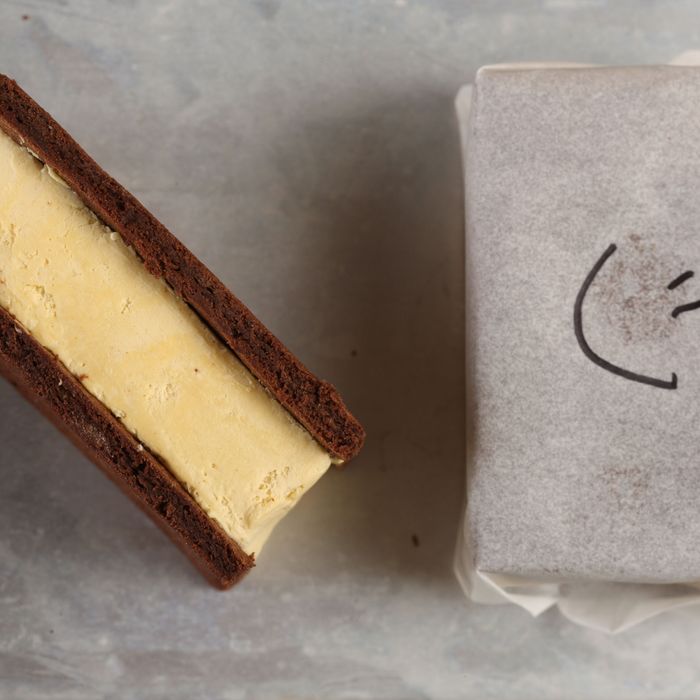 Pearl & Ash spikes kid-friendly ice-cream sandwiches with the grown-up flavor of Fernet Branca.
Photo: Melissa Hom
Bring on the s'mores: It used to be that high-end pastry chefs would treat dessert as a time to impress diners with gonzo techniques and gravity-defying chocolate architecture, sometimes sacrificing flavor in the process. Thankfully, more and more pasty chefs — led by Momofuku Milk Bar's Christina Tosi and her cereal-milk soft-serve — realize that some of the most satisfying sugary treats are the ones everyone craved as kids: cookies, sundaes, and rainbow-colored slushies. But instead of just selling Snickers bars and Slurpees, chefs are taking the retro inspiration and elevating the dishes with grown-up ingredients like brandied cherries, buckwheat flour, and good bourbon. See what we mean with this list of new and noteworthy retro-inspired desserts that will make your childhood self proud of the adult you've become.

Ice Cream Sandwich
Where to Get It: Runner & Stone
This dressed-up dessert is a very distant relative of its Klondike cousin. This one's made with Port Wine buckwheat cake, walnut ice cream, and caramel oranges. Runner & Stone also offers a boozy rye brownie, which comes topped with rye whiskey ice cream and caramel sauce.
Black-and-White Doughnuts
Where to Get It: Grape & Vine
The Jade Hotel's new restaurant's fried doughnuts with chocolate filling are a riff on the classic New York cookie. This place is big on nostalgic sweets; you can also find a cookie plate with varieties like pecan bourbon and lemon drop, as well as a bacon-apple cobbler.
Chocolate-Popcorn
Where to Get It: Le Bernardin
Popcorn's now a ubiquitous ingredient in fancy sundaes, but Eric Ripert still manages to be ahead of the curve with popcorn ice cream. The dessert comes with Madagascan chocolate ganache and candied peanuts — a throwback to the good ol' days spent snacking at the ballpark.
Snow Cones
Where to Get It: Cascabel Taqueria
You can add tequila to any flavor of shaved ice at this Mexican restaurant, which has locations on the Upper East and Upper West Side. A perfect way to wash down chorizo tacos.
Biscuit Bourbon Bread Pudding
Where to Get It: Jacob's Pickles
The Southern restaurant on the Upper West Side warms buttery, boozy biscuits and tops them with a massive scoop of creamy vanilla ice cream. It's a molten dessert that you won't be able to stop eating. Plus: There are fried Oreos here, too.
Chocolate Hazelnut Ice Cream Cake
Where to Get It: L'Apicio
Salted caramel gelato and praline-hazelnut crunch make for a welcomed update on the classic Baskin-Robbins treat. Highbrow, but still brilliant.
Cereal Doughnuts
Where to Get It: The Bakery at the General
The restaurant's in-house bakery encrusts its doughnuts with Cinnamon Toast Crunch, Cocoa Puffs, and Fruity Pebbles. There's also a parfait-flavored doughnut with Greek yogurt and granola, which we're sure is a lot healthier. Get here early; the doughnuts are only served from 6 a.m. to 2 p.m.
Maple Pudding
Where to Get It: Chez Sardine
Gabriel Stulman doesn't have a dessert menu here, but at the end of your meal, you're presented with a small portion of the excellent maple pudding (just milk, cream, sugar, corn starch, eggs, maple syrup, and "lots of butter"). Bonus: It's often topped with Rice Krispies.
Banana Cream Pie
Where to Get It: Friztl's Lunch Box
The former chef of Bellweather (who's also cooked at Roberta's) opened this luncheonette about two weeks ago. He's making a classic banana cream pie — one dessert that never gets old.
Cast-Iron Chocolate Chip Cookie
Where to Get It: Boulton & Watt
The Lower East Side gastropub serves a piping-hot cookie with a pitcher of cold milk. It's a dessert meant for sharing, but it's easy to polish this off on your own.
Fernet-Branca Ice Cream Sandwich
Where to Get It: Pearl & Ash
The bitter, aromatic Italian spirit finds its way into what looks like a standard ice-cream sandwich, which comes adorably wrapped in paper with a smiley face. Not included: A note from your mom telling you to have a nice day.
Bourbon Pecan Pie
Where to Get It: Sweet Chick
This restaurant prides itself on its adult variations of kid food (macaroni and cheese with a Ritz Cracker crust!). It's comforting to know that you can find a spiked version of your favorite Thanksgiving pie all year long, and that it's socially acceptable here to be over the age of 10 and order a cookie jar.
S'mores
Where to Get It: wd~50
Wylie Dufresne's food is never what it seems, and dessert is no different. Pastry chef Malcolm Livingston II substitutes a citric-acid-infused meringue for a marshmallow, and covers it in a chile-laced bitter cocoa sauce.