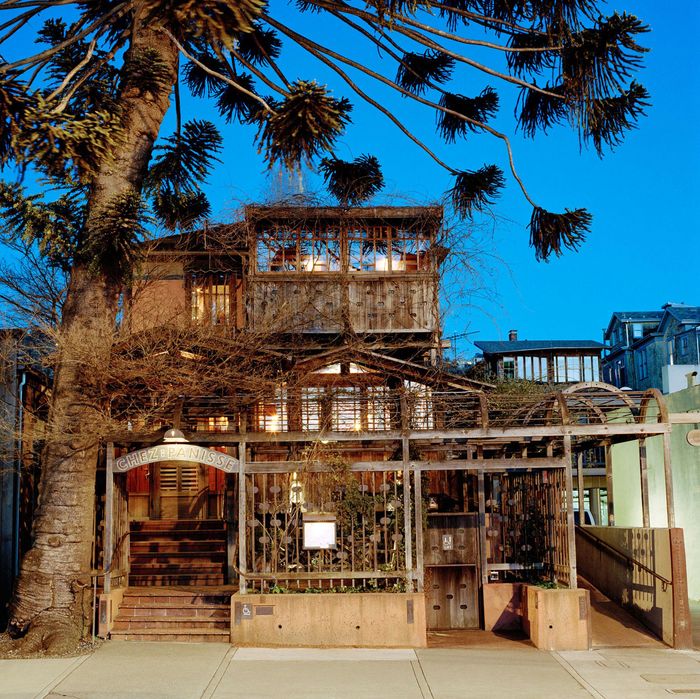 It will not look quite like this.
Photo: Facebook
Earlier this week we told you that things were looking a bit more serious, reconstruction-wise, at Chez Panisse following that fire two weeks ago. Well, today they've made the official announcement that the first week of June is looking like a realistic timeframe for the reopening of both the restaurant and the Café.
There had been a discussion of trying to reopen the upstairs Café first, given that the majority of the fire damage was downstairs, and confined to the front portion of the building referred to as the "porch" — it had previously been an actual, open-air porch when the building was residential, back in the sixties, and was enclosed with the help of carpenter Kip Mesirow. But it turns out there was more structural damage to that porch than initially thought, and today they say they're just going to keep both upstairs and downstairs closed because this "will allow the builders unfettered access to the building without having to open the café on a daily basis — which would have slowed their work considerably."
Of course this means, sadly, that the Café will miss its 33rd birthday, which would have been on April 1.
Mesirow has flown out from his current home in Vermont to oversee the rebuilding, which encompasses both the upstairs and downstairs porches, and the intention is to make it look as much as possible like the old porch, but possibly with more seating capacity.
In the meantime, there will be many lovely staff lunches.

Earlier: Chez Panisse Fire Damage Worse Than Previously Thought, Reopening Delayed Indefinitely [Updated]
Chez Panisse Fire Update: Likely Caused by Faulty Electrical Equipment, Café to Reopen April 1
David Tanis Reminisces About Chez Panisse's Destroyed Porch
Berkeley's Famed Chez Panisse Damaged by 'Suspicious' Fire [Updated]