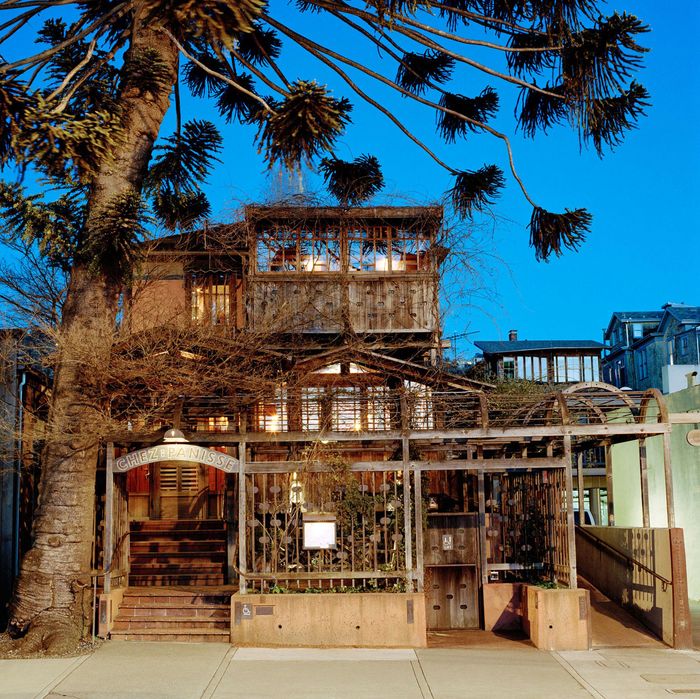 The fire reportedly began outside.
Photo: Facebook
A fire was thought to have started outside the entrance of Alice Waters's renowned Berkeley restaurant this morning sometime around 3 a.m., Patch reports. Flames quickly engulfed the 42-year-old locavore institution but were extinguished within an hour, area ABC affiliate KGO reports. "At this point," Berkeley chief Bill Kehoe tells the TV station, "it appears to be an exterior fire that worked its way to the interior."
The incident has been deemed "suspicious," and while early assessments indicate that only a portion of the restaurant's facade was damaged, it's likely the restaurant will have to shut down for a few weeks for repairs.
This isn't the first time Chez Panisse has been damaged by a fire; a 1982 blaze almost destroyed the restaurant completely, according to biographer Thomas McNamee.
Update: Alice Waters spoke with the Times after seeing the damage:
"The very beautiful facade of the restaurant is gone," she said. "The fire started under the front porch and it just burned the whole front porch off. We were very lucky that it happened in the middle of the night and that no one was there. But it's gone. The beautiful woodwork is gone."

What saved the restaurant, she said, was its sprinkler system; a large sprinkler head poured water on the porch, preventing the fire from spreading. Kip Mesirow, the designer whom Ms. Waters credits for the look of the restaurant, had disguised the head within a large light fixture so, as Ms. Waters said, the look of it wouldn't bother her.

[…]

"But the downstairs — I don't know how we could really make it right for quite some time," she continued. "I think we really have to think about what we're going to do. And maybe there's a silver lining. Maybe we can make a few more seats out on the front porch. That part will have to be entirely rebuilt." In the meantime, the staff will be paid.
Fire damages Chez Panisse restaurant in Berkeley [ABC 7]
Fire Engulfs Chez Panisse [Berkeley Patch]
Fire Damages Chez Panisse [Diner's Journal/NYT]