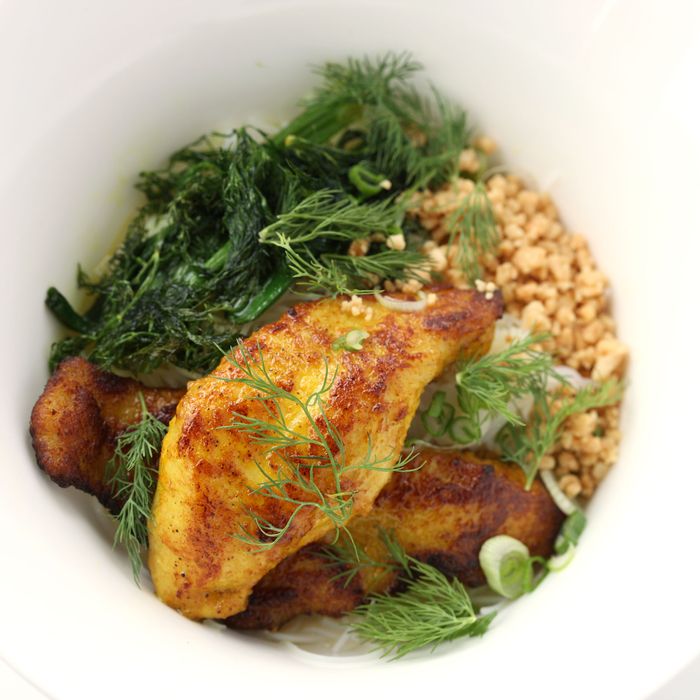 Cha Ca Catfish at Nightingale 9.
Photo: Melissa Hom
Another week, another attempt at healthy eating. But in New York, dinner is the time to socialize — and group meals make it hard to stay on track. Nobody can, or should, resist pizza if it's staring them in the face. But Feast, a brand-new East Village restaurant, is making large-format dining both affordable and healthy. And there are other new spots around town with great food that happens to be good for you, too. Read all about them, ahead.
Monday, March 11: Chow Down at Feast
Can you claim to have ever eaten an entire vegetable patch? Now you can, courtesy of Feast: The baby vegetable garden, a shared starter, comes in olive soil. Add stuffed eggplant with risotto and broccoli rabe to your order to up the health factor. This place also offers large-format, well-priced vegetarian meals — perfect for groups.
Tuesday, March 12: Eat Clean Vietnamese Street Food
Down-and-dirty Vietnamese street food is even better when made with healthy, simple ingredients. With meat and produce sourced from local farms, Nightingale 9 delivers. Go for the catfish vermicelli bowl and a papaya salad.
Wednesday, March 13: Enjoy Rich Vegetable Dishes at Mayfield
Cauliflower custard, melting leeks vinaigrette, and porcini flan are just three of the ways in which vegetables take on the main-event mantle at this Crown Heights restaurant. Round out the produce with local fluke ceviche and brook trout with smashed fingerling potatoes.
Thursday, March 14: Go to Mussel Night at Hill Cafe
We all need more shellfish in our lives. Load up on vitamin-B12-rich mussels at this cozy Brooklyn spot; every Thursday, a bowl of bivalves (which may come infused with absinthe or bathed in curry) and a beer will cost you only $15.
Friday, March 15: Dine at Foragers City Table
Tea is obviously good for you, and the latest news is that certain compounds in it actually help boost neuron production. So why not eat it in addition to drinking it? You'll find a Burmese-fermented tea-leaf salad at Foragers City Table, along with other Asian-tinged eats straight from the owners' Hudson Valley farm.
Kate Lowenstein is the senior features editor at Health magazine