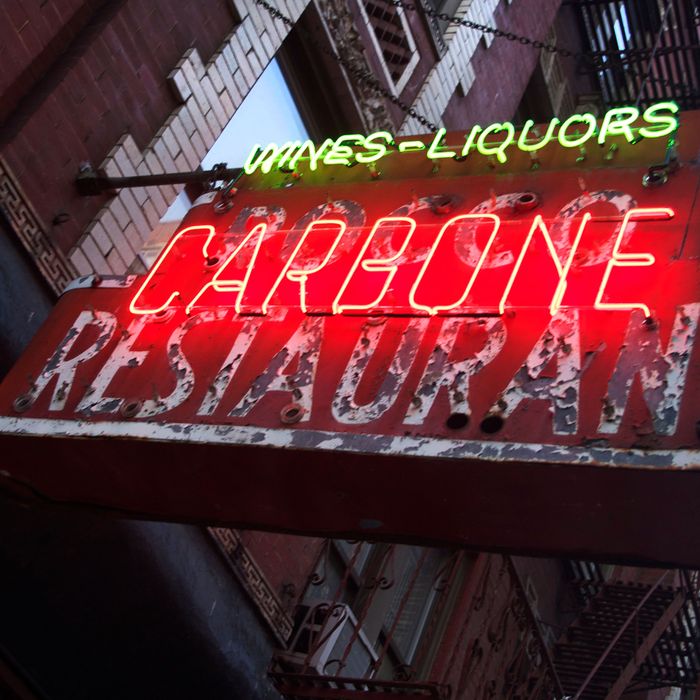 The ladies dined in, then took the restaurant out.
Photo: Christopher Bonanos
Even though Carbone, the latest restaurant from the much-acclaimed Torrisi team, is New York's biggest opening of 2013, the spot's selling point is that it aims to re-create the experience of eating out in New York circa 1955. It's a red-sauce simulacrum where Bobby Darin plays in the background and tuxedo-wearing floor captains toss Caesar salads tableside. So to get a real sense of how well the spot manages to evoke the mid-century feel, Grub Street turned to the best people for the job: two Italian grandmothers who used to frequent the original restaurants Carbone aims to replicate.
My dates for the night are Fran, who was raised near the border of Crown Heights and Brownsville, and has nearly 50 years of experience cooking for her husband and kids; and Annebeth, who grew up on Grant Street in the Bronx near 165th Street. ("We couldn't afford the Concourse.") She's been cooking for nearly 45 years and has been going out to restaurants for 40. Rounding out our group is Christopher Bonanos, an editor at New York and Fran's son-in-law.
The restaurant isn't an homage to any single place. It's a mash-up: the clubby atmosphere from Rao's; the graceful old-timer staff of Bamonte's; food that's refined-yet-comfortable instead of challenging; and a space that evokes, at least in part, Louis Italian-American Restaurant — the fictional spot where Michael Corleone guns down a mobster and a cop in The Godfather. (Per partner Jeff Zalaznick in an interview with the Times.)
As we sit down, "Be My Baby" bleeds straight into "Why Do Fools Fall in Love?" on the speakers. We're given the enormous menus. They're printed on heavy stock and have a three-foot wingspan when opened. Fran disappears behind hers immediately. "The size of this thing is unbelievable," Annebeth says, trying to read it without hitting a water glass. It's too big to put down on the tabletop, so she stands it on her lap.
Fran's voice drifts out from behind her menu. "Very cumbersome."
We're hungry, so it only seems fitting that we order a lot. To start: the baked clam "assortment," sweetbreads Milanese, and chilled seafood salad served cupped in radicchio. But as soon as we sit, huge fragments of Parmigiano Reggiano are served out of an oversize wheel onto heavy, hand-painted plates. The ladies love the cheese.
More freebies: strips of focaccia, shaved ham, a bowl of giardiniera in an oil pool decorated with lemon zest, butter-soaked garlic bread and grissini in the bread basket. The grandmothers are happy.
Marco, our tuxedoed waiter, brings the first round of food. The Chiffons seem to be getting louder.
Fran looks at him. "Marco, may I ask —"
"Yes," he jumps in. "Before you ask, yes."
"Where were you before you were here?"
Marco hands out share plates. "I don't want your food to get cold." He turns to go, but before he does: "Trust me," he says. "I have 32 years in the city." The old-timer charm is authentic.
The starters get nods of approval, as does the tableside prep for a Caesar salad that the diners next to us ordered. "I don't remember the last time I saw that," Annebeth says. Another point for authenticity.
Pasta arrives. Everyone loves the lobster black ties, even if it's more modern than anything Fran or Annebeth remembers. But the kitchen's decision to use fresh peppers in a cappelini dish draws notice. Annebeth leans in and, in true nonna fashion, uses it as an opportunity to school a younger generation: "In the really Italian restaurants they say, Bring me the formaggio Calabrese. They use dried pepper like cheese. Just a little bit of trivia for you."
It's not just the peppers. Neither Fran nor Annebeth is impressed with Carbone's actual pasta: "It's a little bit softer," Fran notes. "I wonder if they're doing it on purpose."
"You should never have to ask for your pasta al dente in a restaurant," Annebeth says. "If anything, you should have to ask for it 'soft.'" The ravioli Caruso, filled with chicken livers, gets knocked, too. "To me this isn't reminiscent of any Italian red-sauce restaurant I've been to," Annebeth says. "I can appreciate they took the pasta Caruso and put it on the menu, and that they wanted to take it up a notch. I love liver and I eat it all the time. But I'm not loving this. To me, it's like chopped liver in a pierogi. Sorry, darling."
Dean Martin's voice fills the dining room: Ain't that a kick in the head?
Carbone and its food inevitably invite comparisons to other bygone restaurants: "I really wish that my friend Gianni Minale was around to make you pasta alla Caruso," Annebeth says. Minale owned Alfredo's in midtown for many years, until the restaurant closed in the eighties and became San Domenico, which Michael White eventually turned into Marea. "Gianni was on the floor," Annebeth boasts. "Every lunch, every dinner." It seems his pasta Caruso, or at least its memory, was better, too.
Entrees arrive and Marco makes his way around the table and dishes out Carbone's version of chicken scarpariello from a bowl. Both women are overjoyed to see it served on the bone, but quickly report the pieces to be slightly undercooked. Fran likes the sauce, which is fragrant with wine and herbs, and filled with morel mushrooms and sausage. "One thing I will say I'm thrilled about," Annebeth says, "I'm not seeing a lot of pieces of garlic. When I see pieces of garlic in the food, I get crazy."
The veal parmesan is an enormous, inch-thick slab of flesh, flanked by a roasted bone. "That is a huuuge portion," Annebeth says, reaching for the steak knife. That's not a good thing.
The problem is that details at Carbone — the doneness of the chicken and the pasta, for example — often take a backseat to showmanship, and the server's "moves" don't impress Fran and Annebeth, even if Marco is as professional and charming as they come. Good food is what makes a good night, and the more-more-more feeling of Carbone's menu takes its toll on both nonnas.
"I feel really weighed down," Fran says as we finish the entrees.
A porter brings two bottles to the table and pours: Grappa infused with fennel and figs, and a bottle of cold, housemade limoncello. "Is it rude to say no?" Fran asks. "Or is it ruder to leave it here?"
No one wants dessert, but then a plate piled with fried dough and powdered sugar arrives. It is promptly dismantled. An enormous display of desserts — cheesecake, tiramisu bound with cookies and string, a chocolate terrine — arrives tableside on a huge tray, and we order a wedge of tiramisu. Marco opens a bottle of Lazzaroni sambuca and leaves it on the table.
"Gianni Minale was one of the first, if not the first, to serve tiramisu at a restaurant," Annebeth says. "He brought it back from Italy. It wasn't like this."
Fran sits back in her chair and sighs. "The cheese was the best thing."
All told, the bill is $480 after tax and tip — a high price even by 2013 standards. But how well did Carbone do in re-creating the feeling of mid-century fine dining in Manhattan? "I absolutely love the atmosphere," Annebeth enthuses. "But I can't say it's reflective of any particular time I can remember."