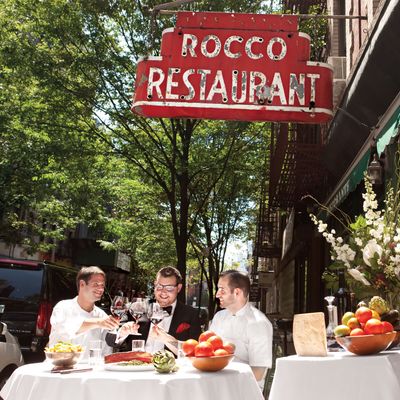 Picnic at hanging Rocco's.
Photo: Mete Ozeren
Mario Carbone and Rich Torrisi continue to expand their portfolio of uniquely Italian-American restaurants with Carbone, which opens this Friday on Thompson Street in the West Village, the Times reports. Along with business partner Jeff Zalaznick, the chefs say the menu at their newest endeavor will "look very familiar, which is the goal." It will travel in the exact opposite direction of the "tyrannical" tasting menu, they suggest, and will ultimately reward guests with heaping plates of clam sauce pasta, chicken scarpariello, and lobster fra diavolo. Sounds good to us.
The restaurateurs recount here, as they did previously for New York, that preparation for their newest restaurant (there are two more on the way) entailed deep research and heavy note-taking in old-school Italian restaurants like Rao's and Il Mulino, known for their service quirks and front-of-house flair. Carbone will be a "red sauce joint," for sure, but a sort of period-appropriate dining experience as well — or "midcentury, Italian-American fine dining," which is how Carbone puts it.
The Times explains:
Just about every element at the new spot — the menu, the music, the uniforms, the décor and even the servers' banter with customers — will be engineered to conjure up the feeling of a lively night downtown, circa 1958.
As such, Zac Posen is designing the server's uniforms, the black-and-white tessellated tile floor is modeled on one the chefs saw in The Godfather, and Vito Schnabel has curated the art on the walls. For those daunted by that information, who may otherwise feel like they're in for a long, dark night of the anchovy, Carbone says no customer will be alienated, because it's really all about the food, and the food will make you happy. The meatballs are huge, for starters, and the piccata is traditional. "We talked about linguine and clams for, like, a year," says Zalaznick.
A New Italian Spot? You've Been There Before [NYT]
Earlier: The Torrisi Boys Go Old-School With Carbone
Earlier: Parks and Rigatoni: Torrisi Team to Open New High Line Restaurant