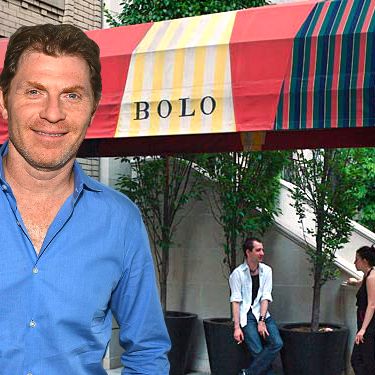 The restaurant may be open by the end of the year.
Photo: Getty Images, Carmen Lopez and AJ Wilhelm
Just as we suspected, Food Network personality and chef Bobby Flay will open reboot of Bolo at 324 Lafayette Street. Flay and his business partner Laurence Kretchmer got the initial go-ahead from Community Board 2 last night for a full-liquor license, DNAinfo reports, and the Mediterranean-Spanish restaurant could be open by the end of this year.
Earlier this month, we'd noted that Bobby Flay seemed to be zeroing in on the Lafayette Street address for the project — the original Bolo closed in Flatiron on New Year's Eve in 2007, you may recall, to make way for condos. Flay's newest restaurant is close to the former East Village home of Miracle Grill on First Avenue, where the chef first gained accolades for his cooking in the eighties.
The new space was formerly used by the nonprofit Bowery Residents' Committee, which provides outreach for the homeless. It's apparently undergone extensive renovations recently, and reportedly boasts 22-foot ceilings and cast-iron columns throughout. If all goes as scheduled, the new restaurant will have 147 seats and open by the end of the year, Kretchmer tells the site.
New Bobby Flay-Owned NoHo Restaurant Bolo Wins Liquor License Support [DNAinfo]
Earlier: Is Bobby Flay's Long-Awaited Bolo Reboot Opening in Noho? [Updated]