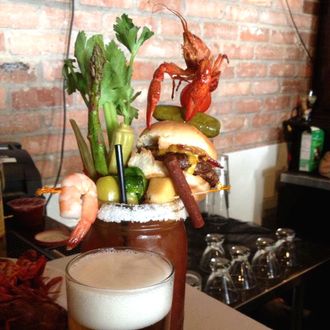 You lost us at 'artisan cheese.'
Why make a cocktail with a few ingredients when you can overdo it with a few dozen? That's what the guys at Anvil Pub in Dallas are going for with their new jumbo Bloody Mary, a drink so hulky and populated with gonzo garnishes that it should probably come with an allergen information card. Central Track reports on last Sunday's version, which was served with a "bacon and cheddar slider, shrimp, artisan cheese, beef jerky, asparagus, Brussels sprouts, green beans, okra, a pickle, onions, tomatoes, olives and even a whole crawfish." Yum.
Inspired by Milwaukee pub Sobelman's "Fully-Loaded, Cheeseburger-Bloody Mary," we're worried the admittedly attractive-looking but ultimately overwrought and top-heavy cocktail may spread across national brunch menus like the virus in Contagion went through A-list actors. That in mind — and with the weekend just a beat away — we'd like to direct your attention to barman Louis Rodopoulos of the King Cole Bar, who can tell you a thousand stories, but will say there's only one way to make the drink.