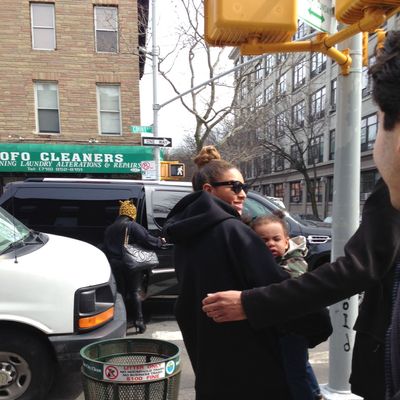 Yes, those are tot-sized Timberlands on Blue.
Photo: Credit: Splash/RichGirlOnABudget.com
Capping off Women's History Month, the divas seemed to rule the restaurants this week. Bey brunched with Blue Ivy, Aretha and Chaka celebrated their birthdays, and media maven Tina Brown broke bread with Matt Lauer (possibly discussing a future in print, not broadcast journalism). Famous divorcées like Katie Holmes and Joan Collins crossed paths, and even Wonder Woman made an appearance. These and other independent women (not you, Amanda Bynes) are in this week's roundup of celebrity dining.
B. Cafe: Joe Biden had brunch with his wife at the Upper West Side restaurant. Stuffed from his meal, he shared his dessert with the diners next to him. [Page Six/NYP]
Bobby Van's: Newly minted actor Marc Jacobs met Oliver Stone at the midtown steakhouse. Stone mistook him for a producer. [PageSix/NYP]
Bocca di Bacco: According to an eavesdropper, Katharine McPhee was at the Hell's Kitchen wine bar talking about vino like a pro. [Page Six/NYP]
Brooklyn Diner: Lynda Carter ordered takeout at the Times Square eatery. Wonder Woman has places to go, after all. [Page Six/NYP]
Buttermilk Channel: Beyoncé and Blue Ivy had brunch at the Carroll Gardens restaurant, the same place she spent New Year's with the hubby. [BlackBook]
Erminia: Mayor Bloomberg had dinner with main squeeze Diana Taylor at the Upper East Side restaurant. Earlier this week, he hit PH-D to toast birthday boy congressman Joe Crowley. [Page Six/NYP]
Frankies 570: Jake Gyllenhaal got lunch with a buddy in the West Village. [Page Six/NYP]
Ichabod's: David Copperfield grabbed a late bite of kale salad and pork ribs at the new restaurant. [Page Six/NYP]
Kittichai: Hugh Jackman and his wife had dinner with friends at the swanky Thai restaurant in Soho. [Page Six/NYP]
Lavo: Ricky Martin had pizza and a latte at the midtown club-restaurant. [NYDN]
Le Bernardin: Kicking off their birthday week, Chaka Khan and Aretha Franklin had a diva-tastic dinner at the French shrine to seafood. [Page Six/NYP]
Lil' Charlie's: Missy Elliott got her conga freak on at the bar under Ken & Cook. [Page Six/NYP]
Lure Fishbar: It was Famous Divorcée Night at the Soho seafood restaurant, where Katie Holmes and Bethenny Frankel dined at separate tables. Later, Holmes was spotted at Upper East Side restaurant Primola, along with power divorcée Joan Collins. [Page Six/NYP]
Mas (la grillade): Claire Danes had lunch with a producer at the West Village spot. [Page Six/NYP]
McDonald's: At a midtown Mickey D's, an antsy Amanda Bynes sipped soda and walked out wearing her blouse on her head. [Cut]
The Park: The "embattled" Matt Lauer had lunch with Tina Brown at the meatpacking Mediterranean restaurant. [Page Six/NYP]
World Bar: Over drinks at the Trump World Tower, Jerry Seinfeld told buddies about his new album with rapper Wale. No punch line followed. [Page Six/NYP]