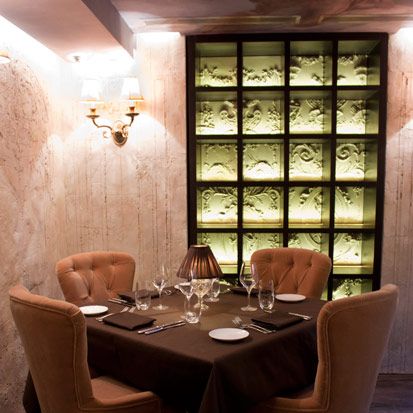 The old Brasserie Pushkin.
Photo: Michelle Feffer/New York Magazine
Diner's Journal reports that restaurateur and gnocchi czar Andrey Dellos has tapped former Eleven Madison Park executive sous-chef Bryce Shuman to open a brand-new concept called Betony in his short-lived Brasserie Pushkin space on West 57th Street. Eamon Rockey, a veteran of the city's fine-dining restaurants who left Aska last month, will be the restaurant's manager.
Florence Fabricant reports that Dellos encountered Shuman after many meals at Eleven Madison Park, and Rockey, who also worked at the restaurant, came into the fold when the entrepreneur enlisted him to help find a general manager and Rockey "himself signed on." Shuman's menu at Betony will be "modern American" and include dishes like "asparagus lasagna with cheese curds," which sounds like a lot of fun. The space will apparently retain some of Pushkin's old art work, but the real question is whether or not the $135 Osetra-and-blini blowout will remain. We'll find out when the restaurant opens later this spring.
This article has been modified to show that Shuman was the executive sous-chef at Eleven Madison Park, not simply the sous-chef.
In Former Pushkin Space, a New American: Betony [Diner's Journal/NYT]
Earlier: Shiraz Noor Replaces Eamon Rockey at Aska