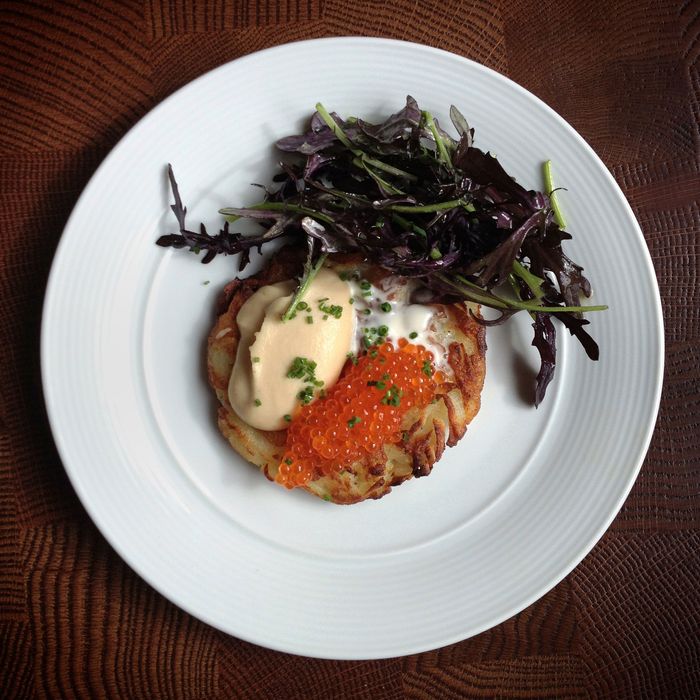 Potato cake and trout roe at the Marrow.
Photo: The Marrow
It's no wonder brunch is so divisive. First there's the two-hour wait. Then you get seated, but since your waiter is just as hung-over as you are, service is horrendous. People are snapping pictures of pancakes for their goddamn Instagram feeds and gossiping loudly about gross one-night stands. Your food arrives, and it's cold. When the bill comes, you've spent $20 on eggs and orange juice that you could've made yourself. Yes, brunch can be a monstrous meal. But if done the right way, it can also be enjoyable and relaxing. The trick is to pick a restaurant that takes reservations (or tends to have a short wait time), and serves up more interesting dishes than a granola parfait. We've rounded up the least douche-y spots in the city, ensuring that even the most brunch-averse folks will be happy come Sunday.
Il Buco Alimentari
Fortunately, it's much easier to score a daytime reservation here, and you can get the same superlative pasta. There are also specialties like the torta pasqualina (Tuscan kale, eggs, and parmigiano) and a panino filled with the signature slow-roasted short ribs. Stay awhile and enjoy the housemade olive oil cake with a glass of Prosecco.
The Marrow
Harold Dieterle's newest restaurant launched brunch service this past weekend. The German-meets-Italian menu includes grilled housemade bratwurst and brioche pain perdu & duck liver mousse. You know it's going to be fun when a peekytoe crab frittata's the safest item offered.
Chez Sardine
Gabe Stulman now offers brunch at his pseudo-Japanese West Village restaurant. Though the food is more American-continental, it has an exotic twist. Pair banana-chocolate bread with miso-baked oysters, if that's your thing. Sake and Red Rice Ale are way better than your usual watered-down Bloody Mary.
The Pines
This newish restaurant in Gowanus is known for its eclectic, and often foraged, fare. At brunch time, that means buckwheat waffles with smoked bluefish, and venison tartare with cabbage, duck yolk, and caraway brioche. Plus: It's super quiet. Bring a newspaper and nurse your hangover alone, if you'd like. No shame.
Le Philosophe
Bond Street's new French bistro is a full-fledged hit, and for good reason: The French food is hearty and traditional, and the atmosphere is bistro-casual. Croque-monsieur gets an upgrade with a hint of truffle, and a kale salad with fried eggs is a nice break from all the rich, butter-coated dishes.
Salvation Taco
April Bloomfield and Roberto Santibañez's Murray Hill Mexican shop recently launched brunch service. Gorge on steak-and-egg burritos, chilaquiles, and grilled lamb tongue tortas, then sweat it all out with a game of Ping-Pong.
Rubirosa
Pizza for breakfast? Hells yes. You can start with the restaurant's signature vodka pie and then move on to more traditional morning options like ricotta pancakes. If you have to wait for a table, you can at least put your name down and walk around the corner to McNally Jackson.
Murray's Cheese Bar
This offshoot of the cheese shop recently started serving brunch, with breakfast cheese boards, a cream-cheese-and-bacon-stuffed French toast called "Illegal Doughnut," and a mini breakfast burger. You can hear the blues singers performing outside on Bleecker Street, too.
BrisketTown
Until 3 p.m. every day of the week, you can order three "breakfast" tacos: brisket with pickled red onions, cilantro, scrambled eggs, and cheddar cheese; bacon made from a smoked and cured pork shoulder with pickled vegetables, scrambled eggs, and cheese; and Brussels sprouts taco with hash, pickled onions, salsa verde, and catsu caliente ketchup.
dell'anima
Another restaurant that's packed at night but much calmer during the day: dell'anima's a great pick for a West Village brunch without the side of douche. One of the menu's dark-horse hits is the simple side of soft-scrambled eggs. There's a pretty patio out back for when it gets warmer.
Red Farm
Start your day with 'Pac Man' shrimp dumplings and Katz's pastrami egg roll — it counts as acceptable breakfast food if 'egg' is in the dish's name. We're not saying there won't be a wait here (there always is), but brunch tends to be slightly less crowded than dinner service. Just be sure to leave time for an afternoon nap.
Buvette
Surprisingly, there's rarely a long wait time here. Small plates include three types of Croque sandwiches, steamed scrambled eggs, and tartines topped with savory walnut pesto and sweet figs and cheese. In the French tradition, no one's rushing you out after you eat. And the European crowd's usually drinking when the clock strikes noon.
La Vara
This Spanish-Moorish restaurant's version of a greasy egg sandwich is mollete, a fried-egg-and-bacon-stew sandwich on an Andaluz roll. The rest of the menu follows suit; there's patatas bravas (crispy potatoes with spicy aioli), torrijas (Spanish French toast), and cuchifrito (crispy lamb hash with poached eggs). Screw eggs Benedict.
Cannibal
The meat-lover's brunch spot serves up three kids of tartare (steak, lamb, and beef), four kinds of sausages, and whipped lardo toast. Dare you to order an egg-white omelette; you'll probably get kicked out and booed.
606 R&D;
Your picky friends will be pleased that the Prospect Heights restaurant has both "More Like Breakfast" and "More Like Lunch" dishes. Two City Bakery alumnae are making black rice porridge and three types of house-fried doughnuts. Another reason this restaurant's on the list: You can make a reservation online.
Marea
Michael White's now serving Saturday lunch and Sunday brunch. Both menus included $45 and $80 seafood tasting menus, but signature dishes like fusilli with octopus and bone marrow are also available à la carte. If you're not eating an obscene amount of rich food, why go to brunch at all?