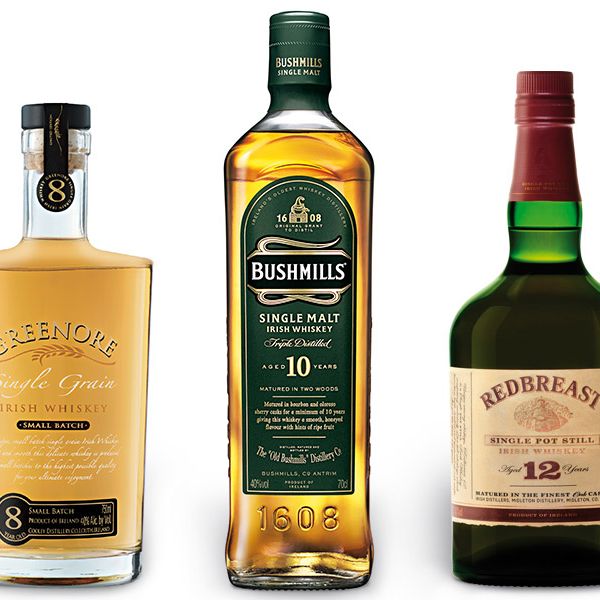 Jameson is nearly synonymous with Irish whiskey — particularly in certain North Brooklyn precincts, where the cheap and ubiquitous brand has always enjoyed a kind of cultural relevance. Nothing wrong with that: Slam it with pickle juice and cartwheel into drunkenness. But Ireland has a long, rich, sometimes fraught history of distilling, and the country's pot still whiskeys can be so much lovelier: approachable and easy-sipping, with neither the big boy swagger of a peaty Scotch nor the grainy sweetness of an American bourbon. Although all of the Irish whiskeys currently on the market start life in one of just three distilleries — Midleton, Cooley, and Bushmills — the range of labels offers plenty of opportunities to get your craic on with something new. In honor of St. Paddy's day, here are ten highlights, from ferocious overproof drams to shut-up-and-drink shot-glass fodder.
Redbreast Cask Strength Twelve-Year, $82
Bottled at a husky 115.4 proof, the cask-strength edition of Redbreast's cultish twelve-year whiskey is a bully of a dram — you can almost hear it cracking its knuckles when it sees you coming. But for all its overproof bluster, the stuff is awfully chummy on the tongue. Redbreast gets its funky backbone from its iconic Irish mash (composed of both malted and unmalted barley) and a dozen-year nap in sherry and used bourbon barrels. The result is somewhere between a Christmas pudding and a booze-soaked Cadbury Cream egg: figs, caramel, fondant, and chocolate.
Bushmills Ten-Year, $50
Like a lot of booze styles, Irish whiskey has a sweet spot for aging — a decade and change in the barrel is about right. (Liquor writer David Wondrich sums up this phenomenon beautifully here.) And so, while there are older expressions of Bushmills, notably 16- and 21-year bottles, the 10-year single malt is the one to know. It's chaste on the palate, with faint honey, crisp fruit, and a short, sweet finish.
Midleton Very Rare, $140
The Midleton distillery is responsible for a lot of the Emerald Isle hooch you know and love (including Jameson, but also Redbreast, Tullamore Dew, Powers, and others), but this blended beauty is the Irish white whale. A limited number of casks have been released every year since 1984, and each vintage has a slightly different character. As with all limited-run booze, Very Rare goes for serious coin, but what a lovely way to spend it. The pour is all suede, orange, and peaches — muscled but mellow, like a leather daddy and a gentleman farmer pooled their cash to buy you a fruit basket.
The Tyrconnell, Ten-Year, Sherry Cask Finish, $80
So many Irish whiskeys are hi-and-bye guests at your mouth party: a cordial hello, a speedy retreat. But not this guy. The Tyrconnell ten-year shows up with a cookie platter and sticks around to tell animated stories and help you collect all the crumpled Solo cups. Which is to say the sherry-cask-finished treasure is an upstanding dram, richly layered with notes of melon and vanilla that linger beautifully. Just know that this one is tricky to track down.
Greenore Eight-Year Single-Grain, $46
Like a Celtic bourbon, this Gaelic anomaly is distilled from corn and aged in barrels shipped over from Kentucky. It may be the perfect Irish nip for a merciless American patriot: Greenore is soft, easy-drinking, and fragrant on its own, but it also makes for a mean intercontinental julep.
Concannon, $25
This cross-cultural experiment pays homage to James Concannon, an Irish immigrant who founded his namesake vineyard in California's Livermore Valley in 1865. Made in copper pot stills at the Cooley distillery in County Louth, the juice is rested for a brisk four years in bourbon barrels and finished in wood used to age the American vineyard's Petite Syrah. The idea is charming on paper, and not too bad in the bottle: citrusy and gentle with a bit of honey sweetness.
Midleton Barry Crockett, $250
This single pot still blend is another big-ticket beauty from the Cork distillery that gives us Very Rare. The price (high) and the nose (heady) should be enough to convince you to shield the Crockett from pickle backs, car bombs, and any other binge-drinking perversions come St. Patrick's Day. In opposition to broody Scotch, Irish whiskey is known for its lighter, more ephemeral character. This bottle, named for Midleton's master distiller, accomplishes that patriotic profile while still delivering a gorgeous wallop of lemons and herbs, honey, and American oak-vanilla.
Michael Collins Ten-Year Single Malt, $40
Triple distillation is a hallmark of Irish whiskey, but Michael Collins gets only two runs through Cooley's long-necked copper pot stills. The resulting juice, made with a measure of peated malted barley — uncommon in Irish whiskey — has a more rugged character than the average Gaelic pour. The single malt comes across like a leather jacket that hasn't been broken in yet: You'll taste apples and a bit of wispy smoke, without the bravado of a peaty Scotch.
Connemara Peated Single Malt, $44
This single malt is the only Irish whiskey to truly nip at the heels of Islay — the Scottish island where peaty dynamos like Laphroig and Ardbeg are made and matured. While Michael Collins toys with turf, Connemara embraces it full stop. The smoldering dram tastes like someone took a torch to the Heath Bar factory, with burnt sugar and a bludgeon of smoke.
Kilbeggan, $30
If Jameson is the buddy flick of European whiskeys, this amber pour is the rom-com: crowd-pleasing and featherweight with its own uncomplicated charisma. It costs about the same as Jameson, making it a fine solution for those who are looking for a low buy-in on St. Patrick's Day. Shoot, wince, repeat.
Jordana Rothman is a New York City–based food writer and former editor of the Food & Drink section at Time Out New York. Find her complaining on Twitter at jordanarothman.
Related: Nine Amazing American Whiskeys That Aren't Pappy Van Winkle