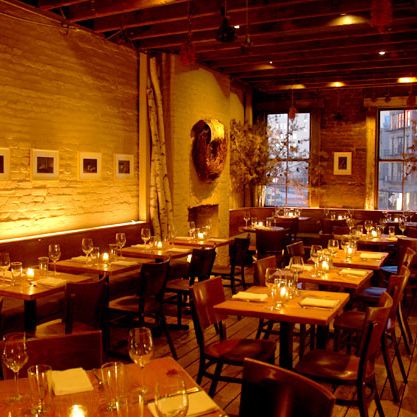 The nine-year-old restaurant's contents are up for auction today.
Photo: Courtesy of 5 Ninth
Though many did not know it was even still open, the once-influential meatpacking district restaurant 5 Ninth has closed permanently. A source tells Grub Street that the restaurant actually folded last month, and while several attempts to contact its management by phone and e-mail have been unsuccessful, the restaurant's kitchen equipment and dining-room contents are being auctioned off today starting at noon.
5 Ninth opened in May of 2004, occupying three floors of indoor and outdoor space at the 1848 townhouse. Ascendant chef Zak Pelaccio was in the kitchen, bouncing bewteen culinary influences and cooking a varied menu of poached chicken with chicharrón-esque skin and smoky rice noodles with lobster. At one point, durian cream pie was even on the menu. (Adam Platt's 2005 review is still a lot of fun to read to get a glimpse of the kitchen's range; "a butterfly is about to happen," Frank Bruni wrote in the Times.)
Pelaccio left in 2007 to pursue other projects and the restaurant soldiered on with Daniel Parilla in the kitchen. Several chefs followed, and 5 Ninth's menu shifted from French to Italian. Perhaps in order to attract the ever-increasing touristy foot traffic in the meatpacking district, the restaurant began offering live jazz and spruced up the fare with the introduction of burlesque nights and movie screenings at Haberdasher, its third-floor bar, which opened last year.