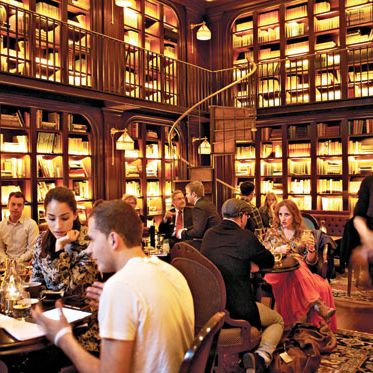 Unwind at the Library Bar at the NoMad.
Photo: Danny Kim
Complaining about how stressed you are during New York Fashion Week has become a competitive sport. But "Ugh, I'm so busy that I don't have time to grab a free Fiber One bar," is not a badge of honor, folks. Everybody's overworked, hungry, and probably a little moody, too, so it's important that the collective mass of showgoers eat (and drink) properly. We've surveyed the areas around popular Fashion Week venues and put together plans based on available time, ensuring that even the most overbooked of editors will be able to find some sustenance.
The Venue: Lincoln Center
You Can Spare Ten Minutes
Épicerie Boulud: Order a preprepared sandwich, salad, or quiche at the counter at this takeaway spot, which is conveniently across the street from the tents. The tuna niçoise salad's a reliable bet.
You Can Spare 30 Minutes
American Table Café and Bar: Marcus Samuelsson runs this café at Alice Tully Hall, and while it has no kitchen, that means the food is precooked and quickly assembled on site. The squash soup with coconut milk and lime is a good pick, and the smoked salmon with potato pancakes mimics a gravlax dish served at Red Rooster uptown.
You Can Spare an Hour
Ed's Chowder House: As one of the "Fashion Plate Prix Fixe" participants, Ed's is offering a three-course lunch for $25. A bowl of piping-hot clam chowder is perfect to escape the cold, and Joe Zee schmoozes here.
You Just Want a Drink
The Smith - Lincoln Center: It's never too early in the day to have a cocktail, and the Smith is offering complimentary sparkling morning punch with any breakfast entree. There's also a special called, um, "the Size Zero," which is a mix of gin, lemon, ginger, amaro, and … Sriracha bitters.
Bonus dessert: Momofuku Milk Bar cookies and cake truffles are sold in the tents.
The Venues: Milk Studios and the Standard Hotel
You Can Spare Ten Minutes
The Smile at Milk Studios: This new offshoot of the Bond Street café offers an exceptional sea-salt-chocolate-chip cookie, plus savory items like a Moroccan carrot salad. Super convenient.
You Can Spare 30 Minutes
Chelsea Market: There's a lot to choose from inside this food haven, from quick crepes at Bar Suzette to a salad from One Lucky Duck. If you can swing a sit-down meal, opt for the Green Table, a "farm-to-table" restaurant that, yes, serves kale.
You Can Spare an Hour
Café Gitane at the Jane: There are usually a few shows inside the Jane Hotel, and this is a good place to linger and escape the madness, especially if you're alone. Nosh on avocado toast and baked eggs, which are available all day and night.
You Just Want a Drink
The Tippler: To avoid the myriad of clublike "unce unce" bars in this area, find solace in this underground bar, which specializes in "old-timey" drinks like the Bee's Knees with gin, honey syrup, and lemon.
The Venue Area: Near the Garment District, West Thirties
You Can Spare Ten Minutes
Kati Roll Co.: Elevated Indian street food in the form of protein-packed wraps*. Plus: lots of vegetarian options.
You Can Spare 30 Minutes
Piccolo Café: No waitress service here, but the Italian paninis, salads, and omelettes are made to order with homemade pesto, bufala mozzarella, and a generous pouring of good olive oil.
You Can Spare an Hour
Sarabeth's: There's an outpost of the restaurant tucked into Lord & Taylor that serves up the consistently good lemon-ricotta pancakes, and a café attached if you want to toss a to-go sandwich into your Céline.
You Just Want a Drink
The Library Bar at the NoMad: Walk on over to the swanky hotel bar, which serves up a damn good cocktail and is a little calmer than the always bustling Ace Hotel.
The Venue Area: Pier 59, Upper West Chelsea
You Can Spare Ten Minutes
Blossom Du Jour: Vegan, organic food that's fast — sounds like a Fashion Week trifecta. The chickpea-quinoa salad is tasty, and there's also cold-pressed juice for all you crazy folks on liquid diets.
You Can Spare 30 Minutes
The Red Cat: Sit at the bar for quick(er) service at this artsy Mediterranean restaurant. The menu's a bit all over the place, but shrimp tacos, an oyster po' boy, and a sirloin burger will transport you to a place far, far away from uptight presentations.
You Can Spare an Hour
Del Posto: A good place to treat yourself if you're wrapping up your day downtown. The hundred-layer lasagne is one of the most comforting comfort dishes, after all.
You Just Want a Drink
Bathtub Gin: On the outside, it's an innocent coffee shop. But once you're in, you can let your blown-out hair down and hit the dance floor.
*This post has been corrected to show that Kati Roll Co.'s flatbread is not made with rice flour .