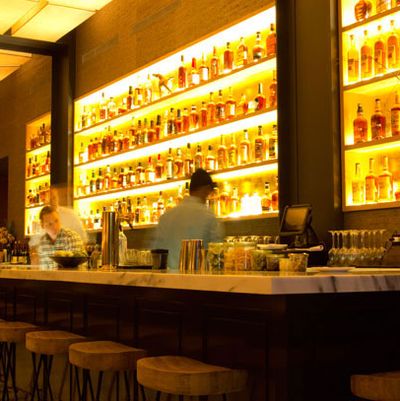 The bar at Maysville.
Photo: Rodolfo Carlos/New York Magazine
This week, Adam Platt gave his take on Aska, Williamsburg's new Scandinavian restaurant. The dehydrated pig's blood, pork trotter with sunchokes and apples, and cardamom ice cream helped earn the spot two stars. Where did the other critics dine? Read on to find out.
Pete Wells ate at Maysville, the Manhattan offshoot of Brooklyn's Char No. 4. He thinks that the poached eggs and grits are some of the best he's ever tasted: "The grits are creamier and the egg is softer, just barely set, so it dissolves on your tongue like warm jelly," he writes. Chef Kyle Knall heads the kitchen here and is formerly of Gramercy Tavern, from where he might have taken some of his moves to whip up fresh spins on dishes like smoked whitefish spread. Wells delighted in a sweet apple granita dessert, and found, to his surprise, tarragon. It's " just the kind of deft touch that by then I'd come to expect from Maysville." Two stars.
Over at the Village Voice, Tejal Rao reviews Crown Heights' Bar Corvo, a year-old restaurant from the owners of a popular Italian spot in Park Slope, Al Di Là. But Rao finds its little sister restaurant to be full of surprises, with "rich hefty batons of beef tongue," "a rustic, chewy faro salad," and "chard-and-ricotta malfatti shaped elegantly." The Italian spot on Washington Avenue isn't flawless, Rao admits, but she thinks it feels right at home in Crown Heights.
Le Philosophe might just be Noho's sleeper restaurant, says Robert Sietsema. The three-month-old French bistro opened with little publicity, a mural of famous philosophers, and a menu filled with steak-frites, frog legs, and oyster service that Sietsema finds ambitious, thoughtful, and "jazzed-up." "Call it haute cuisine lite," he writes. Le Philosophe excels in curating an approachable French wine list that Sietsema described as "amazingly cheap, with plenty of action in the $20 to $30 range."
Jay Cheshes reports back from Iron Chef Masaharu Morimoto's Tribeca Canvas and finds, "With a sprawling menu riffling on Tex-Mex, Chinese takeout and barbecue, the place has a sort of Battle Junk Food restaurant theme." Cheshes likens the cooking to "Guy Fieri-style kitchen-sink cooking" — yikes. Though fortunately, the guacamole with lotus root chips isn't too bad. He's not the first one to pan this spot.
Steve Cuozzo revisited Redeye Grill, a seafood spot near Carnegie Hall that underwent a redesign without much publicity. He declares, "The original whimsically crafted 300-seat eatery had morphed into a more dignified looking seafood house with a steakhouse air." An updated menu offers swordfish, arctic char, sushi, and shellfish platters. But Cuozzo didn't touch his miso matzo ball soup.
Chez Sardine's lack of pretension entices Ryan Sutton enough to give the sushi restaurant two stars. No dish was over $22 and maple pudding is free. Skip the spicy tuna roll, "bland and mushy as a Taylor Swift ballad," he says, but maintains that "sushi is easy here: Order everything." Like the other critics, he's a fan of the miso-maple salmon head.
Michael Kaminer reviews The Library at the Public, finding Andrew Carmellini's nouveau-American menu to be "solid but safe" with a "meat-and-potatoes lineup for the L-train crowd." The crispy calamari and Catskill Mountain trout earn praise, but skip the orecchiette. The desserts impressed Kaminer, too. He called housemade peanut-butter-chocolate-chip cookies, "the milk-and-cookies of childhood dreams, all grown up." Three stars.
Shauna Lyon at The New Yorker checked out Ngam, an East Village Thai restaurant. She reports back that the chicken wings "are as addictive as any topnotch Buffalo variety." But the oyster shooter in Champagne fell short for Lyon, and so did desserts like an Ovaltine brownie. She's happy to see the words, "We love serving you!" on the menu, though.