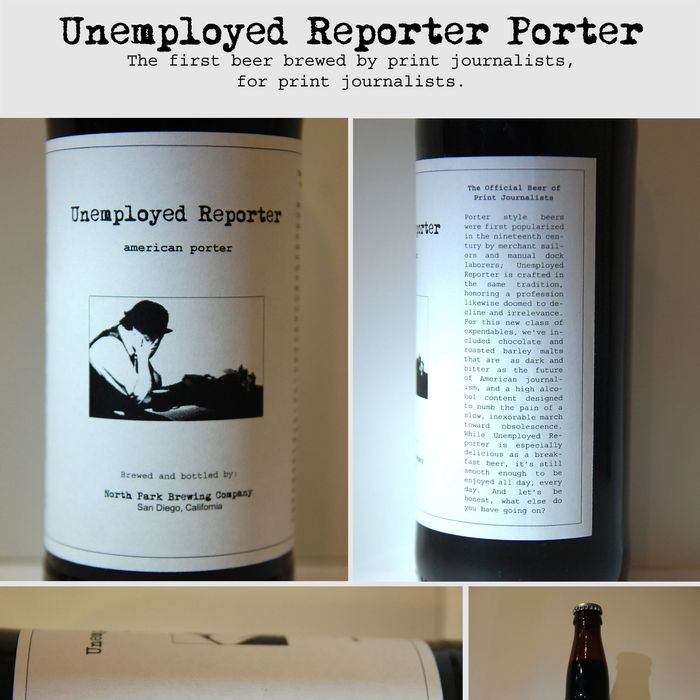 Not available in stores.
Photo: Jon Campbell
Former Hartford Advocate reporter Jon Campbell is now living the life of a freelancer, and between assignments he's been homebrewing up a pithy, malted barley beer that's as "dark and bitter as the future of American journalism." It's a foamy beer for the heady age of buy-outs and layoffs, and on his blog, Campbell explains that he's also been keeping busy by "making some very elaborate labels."

"While Unemployed Reporter, is especially delicious as a breakfast beer," the label claims, "it's still smooth enough to be enjoyed all day, every day." And here's a sharp general disclaimer:
(1) The Surgeon General says women shouldn't drink alcohol during pregnancy, but between Gawker and the Huffington Post, hasn't the act of procreation itself become a moral liability? (2) Drinking alcoholic beverages impairs your ability to drive a car, but it's not like you have to wake up and drive to work tomorrow so fuck it.
"Production has not yet expanded beyond the five-gallon plastic bucket in my closet," Campbell writes, however, "so it won't be hitting the market any time soon."
Unemployed Reporter Porter [Jon Campbell]
Lots of buzz for Unemployed Reporter beer (but no inventory) [Jim Romanesko]