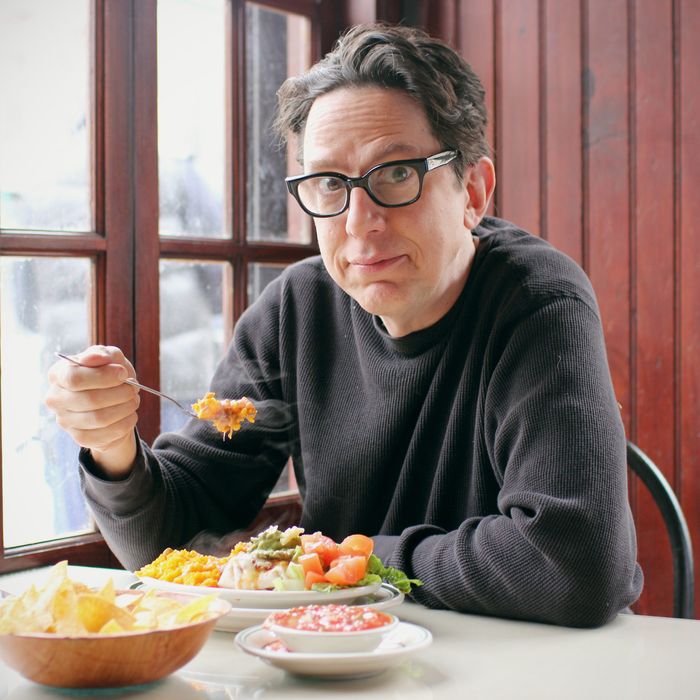 Linnell with his regular lunch at Elora's, which always costs $6.50.
Photo: Melissa Hom
"I am whatever the opposite of a foodie is," John Linnell says. But he promises that this week, "I have strained against my natural impulse to insert the feeding tube and think about anything other than what was pumping down my neck." He'll head out later this month on a national tour for the new They Might Be Giants album, Nanobots, but that's not why he faced unusual challenges this week. His wife, "the cook and adventurous eater of the family," was in Scotland, so, he says, he and his son "faced the dire prospect of a week of mindless bachelor eating." And yet — "assisted in no small part by many friends who actually taste things and later remember what they tasted" — Linnell still managed to track down smoked-paprika macaroni and cheese, tender pork sholder, and black-sesame ice cream. Read it all in this week's New York Diet.
Friday, February 1
Every morning for me begins with the bracing shock treatment of Cafe Bustelo. I've been drinking it for about 30 years and I still don't know what they put in it that makes it so brain-grindingly powerful. It can't just be the caffeine. There's a phone number on the can for consumer information, but I've never dared to call them. My son has a supply of Frosted Mini Wheats, so I poured out a bowl for myself and ate that.
About an hour later, I accidentally dropped my phone onto the sidewalk and set into motion events that would dictate the course of my entire weekend. In the afternoon, I went to the Apple Store in Soho and showed them the phone's cartoonishly shattered display. I received a fresh phone but failed to anticipate that all my appointments would be erased in the process. Now in a mad rush to get home to look at my calendar, I ate a hot dog from the stand at the corner of Mercer and Prince. I don't remember what it tasted like.
That evening I went to Meg and Kurt's place in Williamsburg for dinner. Kurt stewed some very tender pork shoulder, referring to Mark Bittman's comprehensive instructions. And drawing from the Yotam Ottolenghi cookbook, he produced a tantalizing array of roasted parsnips and sweet potatoes with a caper vinaigrette (I wrote all this down). It was great. For dessert, Meg procured cupcakes from the nearby Brooklyn Cupcake, run by enthusiastic young Puerto Ricans. The frosting was of the cream-cheesy variety and quite good. When asked what red-velvet cupcakes tasted like, the staff reportedly stared incredulously and said, "you've … NEVER … had red-velvet cupcakes?!"
Saturday, February 2
Morning: bacon and egg on a roll from the corner coffee shop. Reliable, predictable, inexpensive, convenient, fast.
Saturday was kind of a bust after I realized that my new phone didn't work. In the afternoon, the boy and I headed into town to confront the salespeople and were quickly rebuffed when they pressed a button and the phone began working flawlessly. As we were leaving, my son said: "You know it's going to stop working as soon as we get home."
We bummed around Manhattan for the rest of the day, and as we were driving back towards Brooklyn I saw a parking space in front of Katz's. I pulled over and got a pastrami sandwich to go, half of which I had for dinner, and the other half at around midnight. Also some Trader Joe's yogurt from the fridge.
I tried to use the phone that evening. It had stopped working.
Sunday, February 3
A triumphant reprise of Frosted Mini Wheats for breakfast.
At noon, more fridge grazing. Cheese, crackers, and nuts, all purchased from Costco. We keep a stash of Costco items that my wife calls "man food." Also, a banana. Three of the four foods I had for lunch are also words that connote mental illness.
Back to the Apple Store for the third time. The phone was diagnosed with a hardware problem and unapologetically re-replaced.
In the evening, the lad and I visited Fred and Laura for dinner and the Super Bowl. My grasp of football is actually worse than my appreciation for fine dining. Laura cooked something that for her was an unusually simple meal. She wants me to point that out, but I would have said it anyway.
Laura is one of the most talented cooks I've ever met, and my family and I have had the delirious pleasure of eating her meals regularly for several decades now. That night she served: a quinoa salad with pistachios, plums, beans, peas, carrots, aromatics (I don't know what that is), and sesame oil. Also, homemade fish and chips with yuzu tartar sauce. Also, according to my notes, smoked paprika mac and cheese. And some cucumbers in balsamic vinegar. For dessert, she brought out strawberry swirl ice cream that she also made herself.
It was all mind-bendingly good, as expected, and I want to repeat that this was Laura at her most casual.
Monday, February 4
Morning: bacon and egg on a roll from the corner coffee shop.
Do baleen whales swim towards any food in particular or do they just eat whatever gets caught in their baleens? I might be a notch more discriminating than that, but once I find something I like I stick with it forever. A case in point is the lunch special of chicken saagwala at Kinara on Fifth Avenue and 11th Street in Brooklyn. The solemn waiter nods when I enter. He no longer brings me the menu. The bill is always $8.11.
I had higher ambitions for dinner, but laziness won out and my son and I ordered from Kiku, our usual choice of Japanese takeout. I had the triple sushi, which consists of three pieces each of three types of sushi. Salmon, tuna, and some third thing.
Tuesday, February 5
This morning I took a sharp left turn and ate Honey Nut Cheerios.
This adventuresomeness didn't last through lunch, however. Walking through the door of Elora's, my alternate midday choice in Windsor Terrace, I was greeted with a terse "same?" "Same," I replied. Same at Elora's is the chicken burrito lunch special. Price: $6.50.
For dinner, I asked my Chinese friend Annie to accompany us to Bamboo Garden in Sunset Park, one of her family's regular haunts. Annie obligingly ordered for us in Cantonese, and then she and her husband Matt discussed the proper English transliteration of each dish. The confusion was ratified by the many variant spellings available online. Har gao is Matt's version of the shrimp dumplings, but Annie thought the r should be dropped. Gai lag, they agreed, is what you call Chinese broccoli. Both tasted wonderful. We also had salt and pepper crispy shrimp (good) and pork chops with peking sauce, which was a bit sugary. I don't know what these are called in Chinese so I will be helpless to ask for them if I ever go back on my own.
Midnight: Mott's applesauce.
Wednesday, February 6
Those Honey Nut Cheerios were pretty good on Tuesday, so this morning I was back for more.
Around 11 a.m. I ate some Ling Ling Potstickers from Costco while doing phone interviews to promote our new album, Nanobots. Note that I'm also promoting it right now. Potstickers can be eaten more secretly over the phone than, say, raw carrots.
Back to Elora's in the afternoon with Grub Street photographer Melissa to document the chicken burrito lunch special. I say that as if I returned for that reason, but I probably would have gone there again anyway. Wednesday is shaping up to be a cover version of Tuesday.
My son wanted some consolation black sesame ice cream after he accidentally took the wrong subway home from school and ended up stranded in North Brooklyn. I picked him up and drove him to Hanco's on Seventh Avenue in Park Slope. I had a few bites of his ice cream. It is subtler than the kind you get in Chinatown.
For dinner, we got takeout burgers from Five Guys. Their food was the inspiration for my favorite song of last year, "Oh My Dayum" by the Gregory Brothers and Daym Drops. A fittingly bacheloristic meal to finish this account.