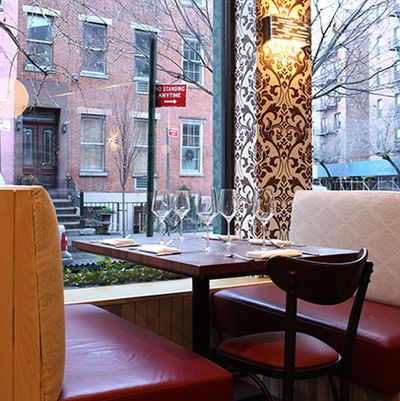 Inside the Marrow.
Photo: Melissa Hom
This week, Adam Platt visited Harold Dieterle's German-Italian restaurant, the Marrow, finding its namesake dish to be a "stodgy, canoe-size" affair. Citing the clumsy heft of other dishes, he gives the West Village spot one star. What are other critics' takes on their meals? We serve that up, straight ahead.
Pete Wells also reviewed the Marrow, and decides its dishes are either "completely sure of their purpose" or "so overembellished" they lose their clarity. A tower of chicken, Brussels sprouts, and salami is a Babel of flavors, while cod dumplings are desecrated by peppers and raisins. Amid food that mostly "rambles," duck schnitzel is "miraculously crisp" and a ginger stout cake is actually "worth jumping up and down about." One star.
Robert Sietsema doesn't agree. Between dishes that honor Dieterle's German dad and Italian mom, Sietsema thinks that the Marrow benefits more from the Italian side. While the duck schnitzel is "magnificent" and reminds him of Dieterle's winning duck meatballs on Top Chef, salt-cod gnudi "wows" and bone marrow is "perfect." Uniting both sides is that oft-praised ginger stout cake — a "most impressive production."
Tejal Rao found dishes that resembled fast food at Masaharu Morimoto's Tribeca Canvas, as if "human civilization had been destroyed" and all a young cook could go on was "a recipe collection preserved by T.G.I. Friday's." She won't be coming back for "watery gyoza," "spongy" corn dogs, and tiramisu sliders that are like "leftovers from last night's bachelorette party." Not even a "truly nice staff" can make up for such "carelessly constructed" food.
Steve Cuozzo thinks that Café Tallulah, the sceney French bistro on the UWS, "might be the worst news on Columbus Avenue" since a water main project hit the area in the eighties. Unless the restaurant's "inventory issues" prevent you from having these, skate au grenobloise was "the scrawniest specimen to ever touch a place," duck breast was "artlessly carved," and beef bourguignon was so "flavorless" that even Cuozzo's waiter warned him against it.
Stan Sagner of the Daily News dropped by Yefsi Estiatorio in Yorkville, where chef Christos Christou is doing Greek standards proud and entrees are "minimalist celebrations of their topnotch ingredients." A cinnamon and tomato-braised lamb shank is a misfire, but all is redeemed by the time the kitchen brings out the warm baklava and a "softball of intensely rich" Greek yogurt.
The General, a salute to modern Asian cuisine on the Bowery, lacks a command on flavor, Ryan Sutton believes. General Tso's chicken is "one-note in a Wendy's chicken nuggets kind of way," while crispy fried beef tastes like "fried cardboard coated in syrup." Sutton says "diluted flavors that never reach beyond pan-Asian party fare" should be paired with Scotch cocktails, which "are at least great drinks." He gives the restaurant's elevated takeout a half-star and says chef Hung Huynh "should be aiming higher."
The New Yorker's Ariel Levy visited Gaonnuri, a traditional Korean restaurant with an Empire State view. While the skyline offers a great escape, Levy suggests sticking to classic cuts of short rib, which "do not disappoint," and a "sublimely slithery" japchae. The creative flourishes in desserts "have a Cirque du Soleil" quality. And when in doubt: "Soju is really the way to go."