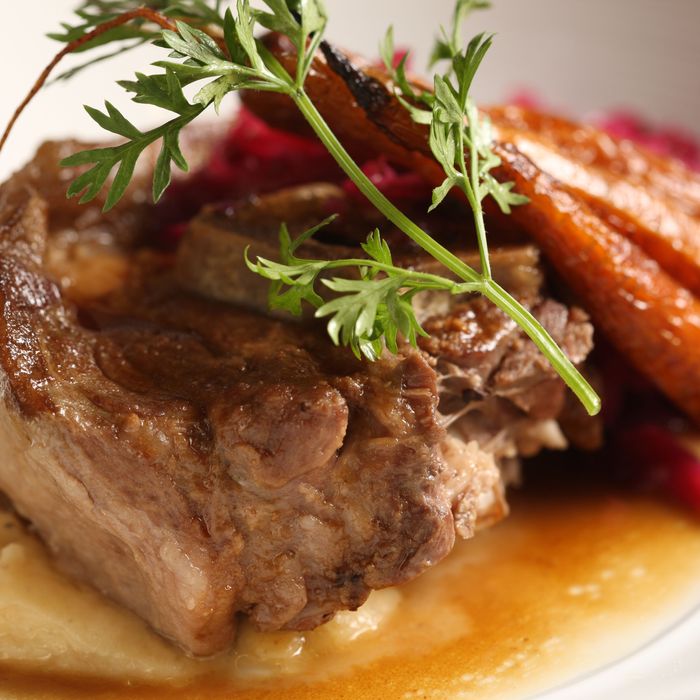 Juniper-braised lamb neck at the Marrow, a favorite of Jay Cheshes.
Photo: Melissa Hom
New York's review crew left the critical noshing to other pro eaters this week. Where were dinners had, drinks downed, and stars dispersed? Acclaimed restaurants like the Marrow got even more love, while some lesser-known spots like Elmhurt's Sweet Yummy House received attention, too. Find out which places were great, which were just meh, and which critic thought he was experiencing an earthquake on the job, straight ahead.
Pete Wells visited Louro, where chef David Santos serves global cuisine with a Portuguese heart. At the Kickstarter-funded restaurant, he felt the passion from "improbably light" fish fritters with paprika aioli and piri-piri shrimp ("the best I've ever tasted"). But beyond the spicy seafood small plates, Wells thinks entrées lacked pulse: A chicken confit was "dull," while the lobster risotto was "depressing." One star.
At Elmhurst's new Sichuan spot, Sweet Yummy House, Robert Sietsema got less mouth-numbing spice than he expected. The irony didn't stop at the lamb with chilies, where he "sorely missed the tingle"; he found fire in the "bland-sounding" cold jelly Chengdu-style, while a "splendid" cold kidney salad soused in chile oil also packed some delightful heat. To soothe the burn, skip the beer chicken, he warns, which is "bony and bland in the extreme — you might as well be eating an umbrella."
"The meat, blushing and richly textured, shouldn't be missed," says Tejal Rao of Hanjan's fresh-killed chicken, "fried in crisp boneless pieces or on a range of delicate skewers." At Danji, chef Hooni Kim's Korean tavern in Flatiron, Rao also vouches for the "muscular" ramen and braised eel "coated in an intense, oily sauce." Such spirited fare goes well with some sweet makgeolli, an alcoholic yeast-and-rice brew she suggests you "drink, drink, drink."
Among the restaurants in Harold Dieterle's West Village empire, Jay Cheshes thinks that the Marrow is his "best by far." He enjoys the "high-end comfort food" that travels beyond the chef's homage to German-Italian roots, including a "stateless" bone marrow with sea urchin, fall-off-the-bone lamb neck that reminds of "good osso bucco," and short ribs "as tender as the best beef bourguignonne." For a menu that "teeters on the edge of familiarity and distinctiveness": four stars.
Ryan Sutton agrees that the Marrow is Dieterle's "best effort yet." He salutes the well-seasoned, well-priced wagyu steak and believes the spaetzle-sided duck breast warrants a Michelin star on its own ("If there's a better fried red meat in town, I don't know it"). Even non-meat dishes get the thumbs-up. The maitake mushrooms dish, he says, "packs more flavor than most of the lousy New York strips around town."
In "Tables for Two," Nick Paumgarten finds a few pleasant surprises in Jones Wood Foundry's pub grub. He calls the Upper East Side spot's Scotch egg a "delicious death bomb" and finds a "sophisticate" in its ploughman's pork pie, "a terrine of spiced meat in a delicate pastry" that hints to its chef's bistro background. Still, most dishes are "a little undersalted," a phenomenon he credits to "the U.K. and the Upper East Side."
Steve Cuozzo discovered more than a lounge at Center Bar, noting "disconcertingly fine dishes" at the Time Warner Center's newest addition from Michael Lomonaco. Besides the stunning atrium window view and "killer, uptown-classy small plates" that include a "decadently rich" arancini, Cuozzo takes in "strapping" entrées. Even what he thought was an earthquake (turned out to be tremors from a concert) didn't stop him from enjoying desserts such as bourbon vanilla rice pudding with honey gelato.
Michael Kaminer considers the revamped menu at celeb haunt Michael's, "Botox when it really needs an organ transplant." Though made more affordable, the restaurant's cuisine falls flat with Korean steak tacos that "look microwaved" and market vegetables are an "oily assemblage of overcooked flora." One star to "food that would barely pass muster in a diner."*
*This post has been updated to include Michael Kaminer's review of Michael's.