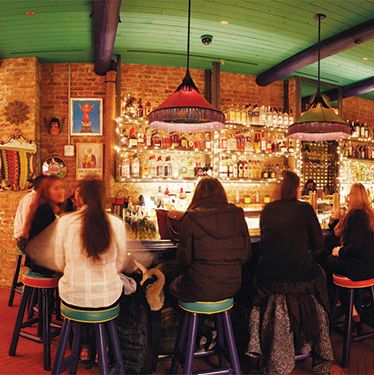 Wells likes the Swedish hot dog at Aska.
Photo: Victor Prado/New York Magazine
This week, the Underground Gourmet chowed down at Murray Hill's Salvation Taco. They tried Moroccan lamb on naan, fried pig's ears, and snack-size salads of roasted kabocha squash and poblano pepper. What do the other critics have to say about their meals? Read on to find out.

Pete Wells reported back from Aska, Williamsburg's latest addition to the New Nordic movement. He found the cracker made of pig's blood to be the kind of snack "Morticia Addams might hand out to unwary trick-or-treaters" and noted that a dark lichen broth was "best saved for cases of starvation." But Wells called chef Berselius's menu a "meditative vision" that brightens with the vegetable, meat, and seafood dishes, particularly with fresh herring and pike served with whipped anchovy cream and purple carrots. Two stars.
Robert Sietsema also explored Nordic fare at Aamanns-Copenhagen. He found the traditional smørrebrød to be "stunning," the beef tartare option "a work of a talented sculptor." But the kale and chicken salad open-faced sandwiches failed to meet expectations. Aamanns-Copenhagen shines for Sietsema with its signature pickled fish, but he noted that he unlocked the Danish secret to staying thin: "They may as well be on a Paleo Diet."
Bloody chicken hearts taste like "silky filet mignon" mixed with a "gentle tang of good liver," said Ryan Sutton of Hanjan, the Korean spot from chef Hooni Kim of Michelin-starred Danji. He found the skewered meats to be the standouts on the menu: clean and juicy chicken thighs, and "sweet blocks of short rib." The rice dishes were mushy and weak. Amid options such as trotters and "blubbery pork belly," he deemed the mackerel "perfect." Two stars.
Jay Cheshes also reviewed Hanjan this week. He enjoyed the Korean fried chicken — "Battered nuggets of brined thigh meat radiating garlic from out of their core" — and learned the chicken is so fresh it's killed in Brooklyn the day it's cooked. Unlike Sutton, Cheshes found the rice dishes to be crispy and sizzling, though the squid pancakes and spicy cod roe soup stood out as must-orders. Four stars.
The enormous hen-of-woods mushroom at Harold Dieterle's the Marrow left Steve Cuozzo weak in the knees. Cuozzo dined at the German-Italian bistro and claimed the entree "blows away any cauliflower 'steak' efforts." He also found the bone marrow adventurous ("proceed if you dare"), and the fish belly, bottarga, and marrow "as compelling as it is new." But the Italian side of the menu didn't do it for Cuozzo. Instead the dolci küsse, an assortment of cookies, brought him "one step closer to heaven."
Stan Sagner visited Old Homestead Steakhouse in Chelsea. Huge portions didn't offset his disappointment in a classic Caesar salad or "Colossal shrimp," but some of the meat made up for the missteps. The New York sirloin was "a consistently well-charred plank," and the "Gotham" rib steak was "cartoonishly large." Too bad the "Empire Cut" of prime rib only looks mouth-watering; Sagner says it "chews like a wad of bloody cotton balls" and the sides are "unspectacular" aside from a cone of tater tots.