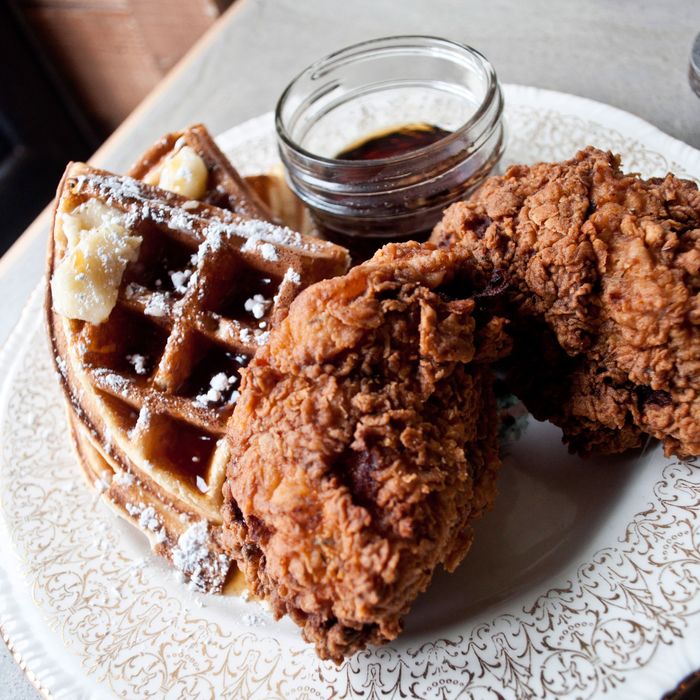 Sweet Chick's namesake dish.
Photo: Nev, No Entry Design
Bedford Avenue's latest restaurant serves up adult variations of nostalgic comfort food. It's a familiar concept, but at Sweet Chick, fried chicken comes with your choice of bacon and Cheddar, rosemary and mushroom, or classic waffles; and because this is Williamsburg, you can even get vegetarian fried chicken that's made with seitan. The menu also includes macaroni and cheese with a Ritz Cracker crust, a kale BLT salad, and a cookie jar filled with housemade Rice Krispy treats. Wash it all down with a cocktail called "Purple Drank" (gin and Welch's grape soda), one of the seven craft beers on tap, or a custom-made Arnold Palmer soda from Brooklyn Soda Works. The communal picnic tables, nine-seat bar, and vintage wainscoting are made out of the discarded wood from old Brooklyn buildings and brownstones in Bed-Stuy — another reason you'll feel right at home here.
Sweet Chick, 164 Bedford Ave., at N. 8th St., (347) 725-4793