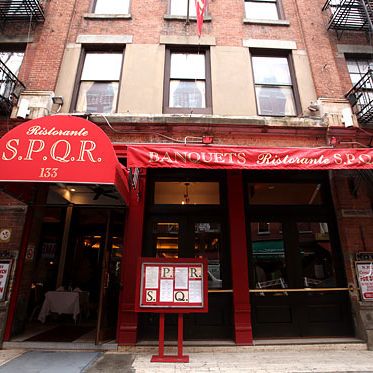 No more Sunday gravy: Condos coming soon.
Photo: Melissa Hom
The 14,000-square-foot ground-floor space at 133 Mulberry Street, which has been different iterations of SPQR restaurant and catering hall for at least the last 30 years in the ever-displaced heart of Little Italy, has closed. Numerous attempts to contact its proprietors have been unsuccessful, but the restaurant's telephone is disconnected, its online reservations system is defunct, and its contents were auctioned off yesterday as part of a debtor-in-possession sale.

The Times reported in 1981 that the cabaret singer Richard Ianni was performing upbeat James Taylor covers and rousing versions of Neil Sedaka hits, and noted that the enormous restaurant's beveled glass windows had been salvaged from an ancient Baltimore townhouse. While SPQR no doubt went through many changes over the next 28 years, the restaurant reopened with new owners — Little Italy's illustrious Criscitelli family — in 2009, who served a menu of red-sauce standards and dishes like mozzarella Caprese. "Because we're on Mulberry, nothing's wildly creative but everything's on point," the chef told Grub Street. "We're doing simple dishes to the max."
It's unclear if there are plans for another restaurant to open in all or part of SPQR's massive ground-floor footprint. The six-story building changed hands, however, in late 2011, and at the time it was reported its new owner had "tentative plans for a condominium conversion down the road." Late last year, a Buildings Department application was filed to convert that old second-floor cabaret space into two new residential units, and Elegran, a real-estate website, has a dedicated landing for the Mulberry Street address online now, with a "Listings Coming Soon" teaser on the right-hand side of the page.