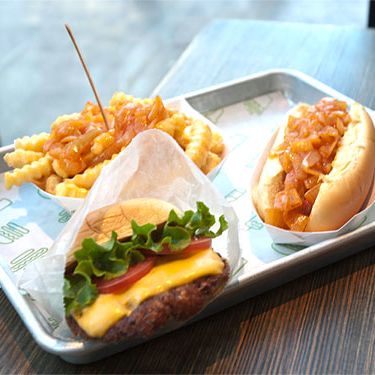 Fries do in fact come with that shake.
Photo: Jed Egan
Union Square Hospitality Group has announced it will open a second Shake Shack in Brooklyn this fall at 170 Flatbush Avenue, former home to a furniture store. The chain opened previously in the borough, in Fulton Mall back in December of 2011, and with locations set to open this year in London and Istanbul, it looks like it's going to be a busy year for Shackburgers. (There are also of course rumors the chain is looking at Chicago and may be checking out the old Ollie's space at 1991 Broadway on the Upper West Side.) So take a deep breath and check out some more details, straight ahead.
SHAKE SHACK TO OPEN SECOND BROOKLYN LOCATION IN FALL 2013

Beloved Burger Stand Setting Up Shop Directly Across From Barclays Center

NEW YORK, NY - February 12, 2013 - No sleep 'til Brooklyn! Danny Meyer's Union Square Hospitality Group (USHG) is proud to announce it will open its second Brooklyn Shake Shack in Fall 2013. The new Shack will make its home at 170 Flatbush Avenue, just a three-pointer and slap shot away from Barclays Center—NYC's exciting new entertainment destination and home of the NBA's Brooklyn Nets and NHL's New York Islanders (2015).

Shake Shack is a critically acclaimed, modern day "roadside" burger stand known for its all-natural burgers, flat-top dogs, frozen custard, beer, wine and more. A fun and lively community-gathering spot with widespread appeal, Shake Shack has earned a cult following in New York City and around the world.

"Our second Brooklyn location will be directly across from the Barclays Center and plant us firmly within walking distance of several neighborhoods from Park Slope to Fort Greene," said Randy Garutti, Shake Shack CEO. "New York City is our hometown, and the Shack will be the place where New Yorkers can come together to celebrate the best of Brooklyn's thriving culture, sports and entertainment."

The new location will build on the success of the first Brooklyn Shack, which opened in December 2011 across from Borough Hall on Fulton Street in Downtown Brooklyn. The menu will feature all the beloved Shake Shack classics, and like its siblings, an exclusive selection of rich and creamy frozen custard concretes.

In keeping with Shake Shack's mission to Stand for Something Good®, the new location will be constructed with a variety of recycled and sustainable materials, and feature energy-efficient kitchen equipment and lighting. Chairs and booths will be made from lumber certified by the Forest Stewardship Council, and tabletops will be made from reclaimed bowling alley lanes from Brooklyn's own CounterEvolution. Plus, 100% of electric usage will be offset through Renewable Energy Certificates, supporting wind farms across the United States.

For more information, including a list of all current Shake Shack locations, please visit www.shakeshack.com.

About Shake Shack
Shake Shack® is a modern day "roadside" burger stand known for its all-natural burgers, flat-top dogs, frozen custard, beer, wine and more. With its fresh and simple, high-quality food at a great value, Shake Shack is a fun and lively community-gathering place with widespread appeal. From its ingredients and employment practices to its environmental responsibility, design and community investment, Shake Shack's mission is to continually Stand for Something Good®.

Shake Shack is part of Danny Meyer's Union Square Hospitality Group (USHG), which includes many of New York City's most celebrated restaurants: Union Square Cafe, Gramercy Tavern, The Modern, among others. Since the original Shake Shack opened in 2004 in NYC's Madison Square Park, it now has multiple locations in New York, Washington, DC, Connecticut, Pennsylvania, Florida, and seven international locations, with London and Istanbul slated to open in 2013.


Earlier: Shake Shack Is Opening in Istanbul This Spring
Earlier: Shake Shack Is Opening in London Next Year
Earlier: Shake Shack Chicago? Sounds Like It's Happening