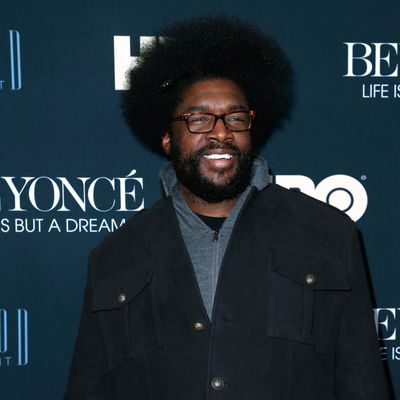 Dreaming of sushi at a Beyoncé event.
Photo: Jimi Celeste/PatrickMcMullan.com
At last night's premiere of Beyoncé's Life Is But a Dream documentary, we ran into Questlove and chatted about his recent pilgrimage to Jiro Ono's restaurant in Tokyo. Turns out, he made the trip mainly to make fun of the Radiohead guys, who bragged that they waltzed into the ten-seat restaurant without a reservation. Once there, Questlove Instagrammed his meal — which, for a food lover, is considered the ultimate taboo. He commented on the backlash, and also shared his thoughts on Malcolm Gladwell, Roger Ebert, and, of course, Jiro the legend.
You recently did the Jiro tour. What made you want to do that?
I accidentally saw Jiro's movie because the movie I initially wanted to see was sold out. And I didn't want to go home, so next thing I know …
What movie were you trying to see?
I forget … To me, his [Jiro's] story, his dedication, is something that, I'm obsessed with — that sort of Malcolm Gladwell-ian 10,000 hours of perfection theory. I'm a perfectionist. People all the time want to know, what's your secret? They think, like, one out of every twelve people was chosen to be the great one. But it's about who's dedicated and who's not dedicated. And at the end of the day, you have to be dedicated.
And Jiro embodies that dedication?
Absolutely. But then there's the other side of the coin. Roger Ebert says the tragedy of Jiro is that there'll never be a four-star Michelin rating … But I went there because I wanted to experience it, and mainly to make fun of Radiohead because they sent me photos of them walking in without any reservations, twice. How'd you do that?
So you wanted to do that as well?
Well, no, no. I wanted to spend my birthday in his restaurant. So that's what I did.
There's been some backlash against …
Taking photos. I got permission. I hate the annoyance of when people aren't in the moment, which is weird for a serial Instagrammer like myself. But I asked for permission because I was overwhelmed, and I wanted to share that with people.
What was your biggest takeaway?
It's surreal. He massaged octopus. Nothing like it.
It's as good as they say?
It was worth being massaged.
Earlier: Questlove Dreams of Jiro