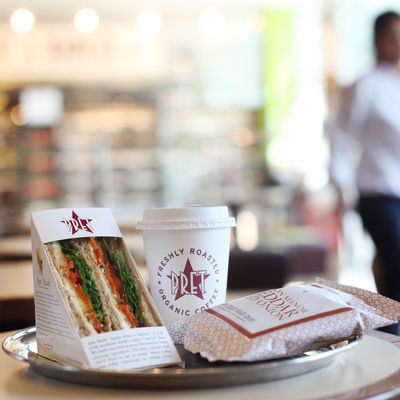 Soup, salad, and europhia, dammit!
Photo: Pret A Manger
The New Republic reports on the strange set of deportment guidelines known as "Pret Behaviours" that all Pret A Manger employees are "required to master." The London-based fast-casual chain, which is expanding in New York, apparently most values an employee who "creates a sense of fun." It does not want clerks, however, who are "just there for the money" and/or those who "use jargon inappropriately." All of this sounds like standard operating procedure for any chain aiming for profitability — after all, no one wants to deal with the guy at the register who stares you down and communicates with bastardized K.C. and the Sunshine Band lyrics — but Timothy Noah thinks it's much more serious than tuna melts and garbled "Boogie Shoes," writing, "Pret keeps its sales clerks in a state of enforced rapture through policies vaguely reminiscent of the old East German Stasi." So what gives?
For starters, Noah argues that the long list of suggestive "Pret Behaviours," which are really not at all secret or shocking but have nonetheless been yanked offline since journalists started covering the chain's happiness-oriented training initiatives last year, amounts to "emotional labor," wherein workers work diligently to mask whatever feelings they may have in order "to achieve the desired effect in others." Worse, writes Noah, "emotional labor is a growing presence in this economy" and is "coming soon to a fast-food outlet near you."
The full list of Pret Behaviors is mirrored elsewhere. The chain, it turns out, doesn't value any employee who "thinks only about their own needs," who "over relies on email," or one who "agrees blandly with others."
Fair enough, but Noah questions the purpose of enforced enthusiasm. "Why must the person who sells me a cheddar and tomato sandwich have 'presence' and 'create a sense of fun'?" Noah asks. "Why can't he or she be doing it 'just for the money'?"
The reason why is reportedly Pret A Manger's monitoring system. Every fast-food chain on earth has a "mystery shopper" program, but Pret ups the ante, apparently, by handing out weekly bonuses to the entire crew if one staff member is found to be appropriately euphoric. No one gets anything if any Debbie Downers turn up, and here's where the Stasi comparison comes in: "This system turns peers into enthusiasm cops, further constricting any space for a reserved and private self," writes Noah.
What's worse is that staff members reportedly encourage one another by touching each other. "The first thing I look at," chief executive Clive Schlee told the Telegraph last year, "is whether staff are touching each other — are they smiling, reacting to each other, happy, engaged? Look, she's just touched her colleague — squeezed her arm. If I see hands going up in the air, that's a good sign. I can almost predict sales on body language alone."
Clearly someone's not too worried about employees spreading the flu, but moreover, is this weird? Any fast-food or fast-causal workers out there who have experience with unexpected, or even touchy-feely, training methods? Let us know in the comments.
Labor of Love [New Republic]
Earlier: Pret a Manger Sprouts Up in Three New Locations