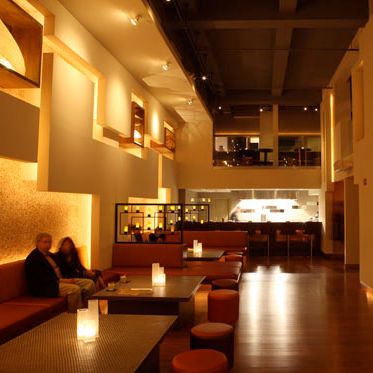 There may be music, but don't call it a nightclub,
Photo: Melissa Hom
"This is damaging to us," says Rajiv Sharma, the owner of Pranna in flatiron. "We are a restaurant and a lounge, not a nightclub." Last week, however, citing complaints of loud music, fights, "illegal dancing," and other disturbances, the full board of Community Board 5 voted to recommend the State Liquor Authority modify the conditions of Pranna's existing liquor license. Sharma is now on the defensive and argues that his corporate clients wouldn't book the facilities if Pranna were the kind of place where people lined up outside every night to dance. "We have private parties here," he says, by way of offering explanation. "We celebrate sweet sixteens and anniversaries."
The restaurant's website tells a more complicated story. "PRANNA seduces guests nightly with a sexy atmosphere and beautiful surroundings," reads the intro text on the page dedicated to its upstairs lounge. "Thursday through Saturday, our lounge is a late-night drinking, dining and dancing destination with international appeal," it says, and then some:
Dramatic decor, bottle service, cocktail flights and the convenience associated with being attached to a full service restaurant and lounge, PRANNA is the perfect spot to continue the party.
It looks like a club and acts like a club. So, what gives?
While this may be the text on its website, Sharma says some other websites have hijacked the Pranna name to promote events in the space without his consent. In all, he says, he has discovered twenty nightlife-specific pages that proffer Pranna as Party Central. "If they don't take down the listings," he says, "we will file a lawsuit." He mentions Club Pranna as an example.
Here's where the story sheds some light on the deeper weirdness of how nightlife in New York is promoted. The website , chockablock with holiday-themed flyer art, bottle-service specials, booking info, and photos of the restaurant, alleges to be Pranna's homepage but is not in fact associated with Pranna. It's owned by a text-spamming group called Velvet List, which hosts fake pages for the Empire Rooftop, Juliet Supper Club, Rebel NYC, and more on the same server that hosts clubpranna.com.
Sharma says he's been on the offensive ever since Community Board 5 informed him of the heavily promoted listings, but the operator of clubpranna.com has so far refused requests by Sharma's staff to cease and desist. The restaurateur says his lawyers are preparing to sue the site for damaging his brand, and also for copyright and trade infringement.
When the full board of Community Board 5 voted last week, they asked Sharma to contact police and stop "any rogue individuals claiming to run VIP lists via texts or emails who are not related to Pranna" and to hire professionals to monitor its "social media/online presence," and also attempt to "reset the tone" at Pranna so that it is "no longer fitting" to be listed or reviewed as a club by anyone. Sharma agreed and pledged to hire additional security.
"We've been here five years and there have been no incidents," he says. "But when you have a huge place — when you have three floors with lots of people — sometimes people do get intoxicated, and the neighbors complain."