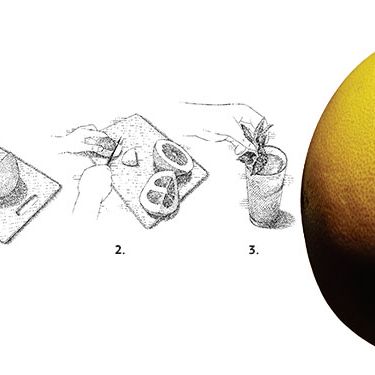 Photo: Victor Prado/New York Magazine. Illustrations by John Burgoyne.
With its imposing stature and thick, puffy rind, the overly insulated pomelo isn't the most user-friendly winter citrus. But its mild, sweet juice (once you get to it) makes a nifty seasonal substitute for that of its descendant, the tarter grapefruit, in a popular Israeli cocktail, in which it's combined with arak, the anise-flavored grape-distilled liquor. This recipe comes from the Kubbeh Project, a three-week pop-up that will turn the East Village's Zucker Bakery into an after-hours Jewish-Iraqi café from March 1 to 21.
The Kubbeh Project's "Kubbeh Libre" Cocktail
1 pomelo, to yield 4 ounces of juice
2 ounces arak (available at Astor Wines & Spirits)
1 sprig mint, for garnish
(1) Cut the pomelo in half and then into segments. (2) Trim away some of the pith, and juice the segments using a hand-press juicer. Combine the arak and pomelo juice over ice in a highball glass. (3) Garnish with a sprig of mint. Makes one drink.
*This article originally appeared in the March 4, 2013 issue of New York Magazine.