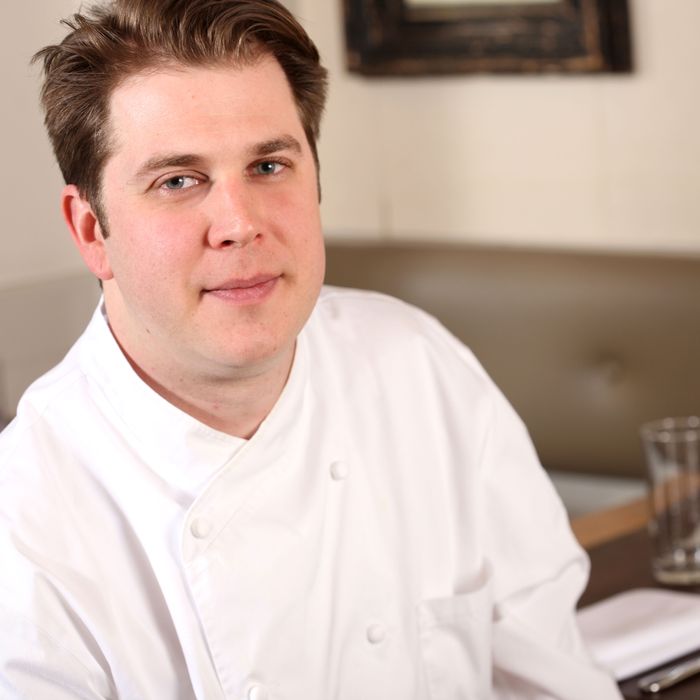 Kirschen-Clark, at Cafe Cluny.
Photo: Melissa Hom
Phillip Kirschen-Clark is a tough chef to pin down, not only because he's bounced through several high-profile kitchens in a relatively short amount of time, but because unlike other roving chefs, there's little scandal surrounding the level-headed Kirschen-Clark — just general confusion about why nothing has stuck. In fact, it's a question that concerns Kirschen-Clark, too. Grub Street sat down with him to talk about his training, what went wrong at Vandaag and Demi Monde, and plans for his latest gig at Café Cluny — a job that he plans to keep for a while.
When did it become a professional goal to be a chef?
In Boston, I got a job as a dishwasher; it went on a succession from there. Soon I worked for Ken Oringer. He put a lot of trust in me. He let me run his sashimi bar, Uni. He gave me freedom and inspiration.
Were you born to be a chef?
My mother is a psychotherapist; my father is pretty good with a microwave oven, so no.
 
What brought you to NYC?
I went to CIA and ended up staging at Ducasse. When they offered me a real job there, my first job out of school, I was flattered and shocked. I stayed for eight months, and then I took a position at wd~50.
 
Describe that experience …
I was the fish cook. Wylie was working the line five nights a week, which was an amazing dynamic but very intimidating. He came up in kitchens in the tough days. If you can't stand up to par, he has absolutely no tolerance for it. I stayed there for 10 months and quit to work at Jimmy's 43, a beer bar in the East Village.
 
What a different vibe!
Ninety percent of my product was coming from the markets. I had a strong social circle with my farmers. It was a small hand written menu every day … my hand touched everything. I was so happy there.
 
Why did you leave?
In 2007, I was offered more money than ever in my life, to work at Pegu Club. I love cocktails, and thought it would be fun to make small, high-end plates there. It was a great collaboration. I drank my share. I didn't stumble home every night, but probably too many nights.
 
What went wrong?
Six months in, the owners asked for wings and sliders. That squelched all my creativity. I gave notice and then they fired me a week before my notice was up. It was unfortunate.
 
Was this your first kitchen firing?
It really wasn't a firing, it was more like a "fuck you." By the way, we're all friends now.
 
You moved to Nantucket, got fired again, and came back to work at Corton …
That was the job I wanted all along, to work for Paul Liebrandt at Corton. In my first two months there, I learned more than I had in my life. There's no one else like him. We were all swinging as hard as we could. And it was worth every minute. Being that proud of everything you put on a plate is quite something.
 
Was it horrifying, though?
Yes! He yelled at me plenty. Thomas Keller was in the dining room once, and I cut a piece of brioche the slightest fraction unparalleled and I thought Paul was going to fire me. He gets on edge, and very disappointed in people, and he lets you know. But he's been extremely good to me too.
 
Why didn't that job last?
I was fired from Corton for laughing. In the middle of a pick-up, Paul decided he wasn't satisfied with the portion size of something I gave him — even though all of our portions were meticulously weighed. Nontheless, I was insubordinate. He said, "Phil, you're a real cowboy." I laughed at him. He told me to go home. There was no reconciliation after that.
 
Is there bad blood now?
Not at all! Every time Michelin is about to come out, I cross my fingers for him. If anyone makes the food that deserves the highest ranking, it's Paul.
 
What came next?
Vandaag. This guy had an idea for a Dutch and Danish restaurant. I turned to him and said, "I don't know what Dutch or Danish food is?"
 
You went to Holland to study up …
One of the most traditional foods is their fries, but what makes them special are that they're fried in horse fat. Also, the national dish is bitterballen, fried little meat croquettes, and the best ones I had were made of horsemeat as well. So it's hilarious reading this shit about the horsemeat uproar! When we were opening Vandaag, I was trying to source horsemeat, and found out it was illegal for human consumption in the U.S. I was like, 'That's a shame!' I guess it's because we're cowboys … like Paul said.
 
What happened at Vandaag?
It never got a bad review, but it was never busy. The room itself felt cold. It was like an art instillation … but the feeling was empty. Financially, too, it was scary. They owed my vendors too much money. There was a lot of stress, and I knew it wouldn't last.
 
Where you nervous about leaving yet another job?  
Yes. After being let go, I was really depressed. You put your soul into a restaurant — leaving is emotionally wrenching. When things don't turn out, it hurts. I hate it. I spent half a week on my couch watching every HBO show that I'd ever heard of.
 
Why take the gamble on Demi Monde?
Because of this "chef's table" they pitched to me. I love and respect what they do at Atera, Brooklyn Fare and Blanca, but it's harsh and one-sided; it's the pinnacle of an "ego meal"; you come and worship and see what we do. I wanted to do that, but I wanted to give the customer some level of control and accommodation. I was extremely excited about it.
 
We got to do the chef's table for all of a week. Two days before opening, I realized none of my vendors had been paid, and all my cooks' checks started bouncing and the place was completely unfinanced. Things got bad fast. I refused to fire my staff — people who had left jobs for me, and had families to feed. It was absolutely heartbreaking. I lasted two months.
 
Insert the Ryan Skeen comparison here …
I've heard the Ryan Skeen comparison. One can't appreciate or enjoy that; he can't enjoy how he's labeled either. Zak Pelaccio swears that to watch Ryan cook is like magic.
 
Why did you join Café Cluny, your current gig?
This fall, I walked my dog to Café Cluny and looked at it. I thought: Honest, wonderful, neighborhood driven. So far, it's been fabulous. I have zero interest in touching certain things on that menu and isolating loyal customers. Like their tuna burger, it's awesome! I'm still figuring out what the customers want, observing carefully.
 
Is it easy?
There is nothing easy about it! It's a busy, busy restaurant that is opened for breakfast, lunch and dinner, and has one of busiest brunches in the West Village. It's a very different type of hard.
 
What are your long-term plans there?
I'm trying to push it in a stronger French direction. I went to Le Grenouille last week to get more in touch with simple, classical French food; I've been reading my Paul Bocuse.
 
What's the takeaway after all these jobs?
I want people to understand that I hate looking for a new job. It's emotional, painful, and financially scary. I want to be somewhere.
 
Anything else to get off your chest?
I no longer don't allow servers to talk to me. At Vandaag, I made them write notes on Post-its, because I didn't want to stop plating to talk. That was just me being an asshole. You know, we all have room to grow.
Earlier: Phillip Kirschen-Clark Is Now Cooking at Café Cluny