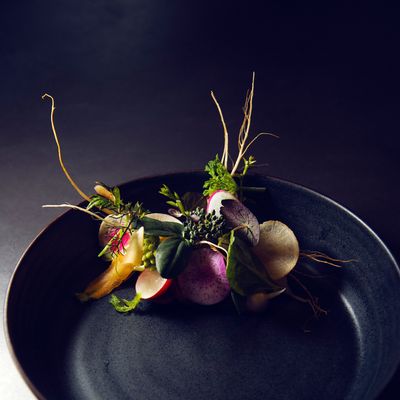 A dish at Atera, where foraging isn't just a buzzword.
Photo: Christopher Anderson/Magnum Photos/New York Magazine
Foraged food is seemingly ubiquitous in New York; the words foraged and wild pop up on countless menus, and per Adam Platt, it's even turned into an urban obsession. But it turns out very few dishes actually include foraged ingredients, especially in the dead of winter. "The term foraged is loosely used; a lot of restaurants have foragers on staff — which means they go to the Union Square market and buy produce," says Evan Strusinski, who hunts through woods, forests, and bogs to find ingredients for Momofuku, Atera, and Aska. "I call foraging the F word. I'm generally wary of it because I don't think it means much. When I see it on menus, it's goofy and trendy, and a way for restaurants to push novelty." Sawtooth herb, wood sorrel, and juniper sure sound sexy and untamed, but they're actually sourced from farms. We've surveyed the city's restaurants to find the ones currently serving in-fact foraged dishes, and surprisingly, there aren't many options out there.
1. Acme
Foraged Goods: Mushrooms
Chef Mads Refslund hails from Copenhagen, so it's no surprise that he's using wild 'shrooms. Order the Farmer's Eggs or the Whole Grains dish to get a taste.
2. Aska
Foraged Goods: Lichen, juniper, ash, and cherry bark
This restaurant one-ups others in foraging; even its Long Island oysters are "hand-foraged" with cucumbers, dill, and a scoop of beef tallow. You can also find fungus here in the form of lichen curls. Don't forget the bark-and birch-branch cordial.
3. Atera
Foraged Goods: Sassafras root, pine sap, and lichen
Matthew Lightner apprenticed at Noma, which explains why much of his food looks and tastes like it belongs in a fairy-tale forest. The menu changes often, but it currently features a bar snack made of lichen crackers, malt puree, and herb emulsion. Plus, two foraged cocktails: the Sass with rye, cynar, sassafras; and the Sapp with gin, bergamot, pine sapp, lime, and egg whites.
4. Daniel
Foraged Goods: Pine needles
Grilled swordfish with gourgagne panisse, Brussels sprouts, piopinni mushrooms, and sauce Diable includes an ingredient normally associated with Christmas trees. As it turns out, pine needles are great for the immune system; they're packed with vitamins.
5. Gwynnett St.
Foraged Goods: Bull's blood, herbs, salsify
This Williamsburg restaurant's menu includes dishes such as ocean trout with seaweed, salsify, horseradish, and beets, and chocolate with rose hips and bull's blood (which is actually a green). Foraging fun fact: Rose hips are too tart to eat raw, but they taste great in jams and desserts.
6. Momofuku Ssäm Bar
Foraged Goods: Russian olive berries, black trumpet, maitake, and yellow foot mushrooms
Strusinski hooked David Chang up with all kinds of goodies, like the ingredients that are in Ssäm's roasted maitake dish with olive berry, liver mousse, and frisée. In the Shanghai noodle dish, yellow foot mushrooms are simply sautéed in butter and thyme until their natural juices are released.
7. Northern Spy Food Co.
Foraged Goods: Chickweed, miner's lettuce
Chickweed from upstate New York is used in the chicken liver mouse, and miner's lettuce from Lancaster Country is part of the warm squid salad. The East Village neighborhood restaurant gets its ingredients from a wide range of purveyors.
8. The Pines:
Foraged Goods: Black trumpet and pioppini mushrooms, sea-buckthorn, and dulse
This Brooklyn restaurant's menu changes daily, but chef Angelo Romano is currently using foraged mushrooms in his Wagyu coulotte steak and duck breast dishes. Sea-buckthorn (a berry) and dulse (a seaweed) are part of the bone marrow with caviar and sea urchin, adding an extra dose of funk to a dish popping up at restaurants around town.