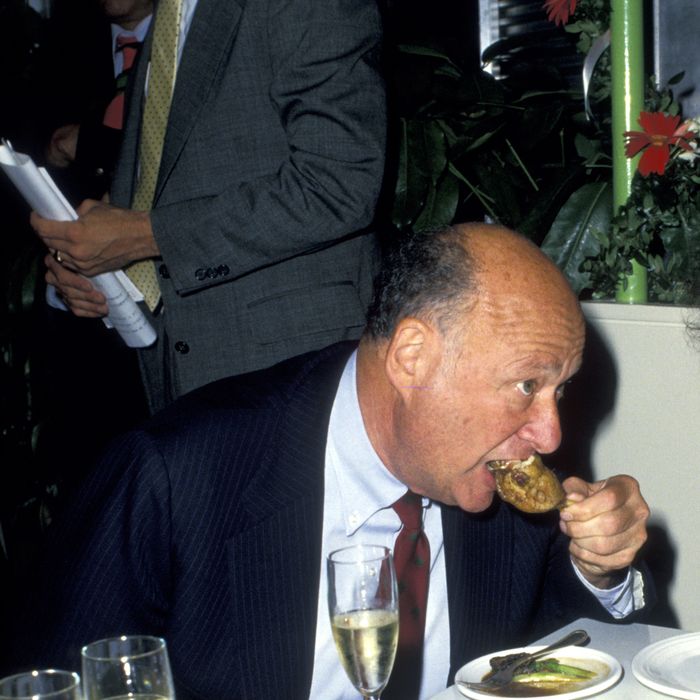 The man could eat: Koch at a 'Meals on Wheels' Benefit at Rockefeller Center in 1987.
Photo: Ron Galella/Getty Images
New York's three-term mayor Edward I. Koch, who sat in office from 1978 to 1989, died early Friday morning at age 88 of congestive heart failure, at New York-Presbyterian Columbia Hospital. The man who saved the city from bankruptcy, and had a "wonderfully big mouth" and several post City Hall careers also loved food, a lot.
Born in the Bronx and raised in Newark during the Depression, Koch was heavyset as a kid and teased relentlessly. He worked as a delicatessen counterman and liked to claim he was raised on a diet of chicken fat and gribenes. His friend Donald's family owned the historic Tavern Restaurant at 444 Elizabeth Avenue, famous for its chops and coconut-cream pie. "I remember going to his apartment and eating wonderful things," the ex-mayor wrote in his 1993 autobiography, Citizen Koch, "that we never had in our house."
As a candidate for public office, Koch was at times just as well known for snacking along the trail as he was for his famous catchphrase, "How'm I doin'?"
"He ate a lot more than Bloomberg does," his spokesman and former press secretary George Arzt told the Columbia Journalism Review in 2009, adding that he finished the knishes and hot dogs and pizza slices at campaign stops that lesser candidates would try to surreptitiously throw away after the few requisite bites.
Koch spent as much time in the vinyl booths of Manhattan diners as the straight-backed chairs at The Four Seasons. He was adventurous, and once tried sheep's eyes in the Middle East. Running against Mario Cuomo for governor in 1982, Koch was asked to milk a cow at an upstate dairy farm for a photo op and then drink the fresh milk. He didn't blink. "Milk directly from a cow is not so good because it's hot," he said, matter-of-factly.
He ate everywhere. Koch reportedly ate in the shadow of the Brooklyn-bound on-ramp at the Bridge Café at least twice a week during his terms as mayor. He talked up the collards at Sylvia's. Drew Nieporent served him duck at Montrachet, and he relished the rack of lamb at Il Mulino, though he claimed he had a hard time getting a reservation. Like so many locals, Koch shirked at the idea of putting anything other than mustard on brisket or pastrami sandwiches.
He liked to recommend chefs and restaurants to diplomats and the dining public. Bucking tradition, in 1978 Koch hired the then-23-year-old chef Rozanne Gold to cook lighter, Mediterranean-influenced food at Gracie Mansion. He publicized the late-seventies reboot of Luchow's, and in 1985, the mayor personally intervened when the Health Department shut down Paul Prudhomme's pop-up restaurant before it even had a chance to open. Koch appeared side-by-side with the famous beret-wearing Cajun chef on Columbus Avenue and declared New York safe for gumbo. "We all love New York," Prudhomme shouted. "This is a wonderful man."
He was frequently criticized by New York's Jewish press for not keeping kosher, but the pork-heavy Cantonese restaurant Sun Lok Kee on Mott Street was an absolute favorite. He kept going back, even long after he choked in the dining room, mid-meal, in the summer of 1981. His office initially informed the press a wilted watercress sprig had been the culprit; later, it was revealed that a piece of spare rib had lodged in his throat. Koch continued to explore Chinatown restaurants well into his eighties, and liked to end interviews about politics by talking up the house special at Peking Duck House.
In retirement, Koch hosted a successful radio show and reviewed movies. He made appearances in commercials for Coke and Snapple. He lost 40 pounds endorsing Ultra Slim Fast, but after gaining back 15, he switched to fresh orange juice from Fairway.
Ed Koch's later years were marked by a series of hospitalizations. Notably, Koch underwent quadruple bypass surgery and valve replacement in 2009, recovering for weeks in the hospital and losing a few dozen pounds. Upon discharge, Koch treated his entire twenty-person team of surgeons and hospital personnel from New York-Presbyterian to Peter Luger. "In case you're wondering 'how I'm doin'," he said on a prerecorded message in support of a City Council candidate, co-opting his classic catchphrase, as the reports of the porterhouse feast got out. "The answer is very well."

Ed Koch, the Mayor Who Saved New York From Bankruptcy, Dies at 88 [Daily Intelligencer]