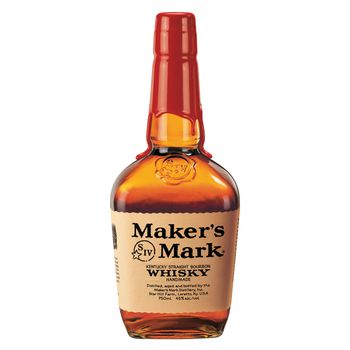 Not so watered down after all.
Photo: Courtesy Maker's Mark
A couple of weekends ago, Maker's Mark company chief Rob Samuels announced that in order to adjust to the ever-increasing demand for its product, the Kentucky distillery would begin bottling its product at a weaker 84 proof, instead of its traditional 90 percent strength. This, predictably, was met with more or less immediate dissent. Now Samuels, who had argued that watering down was the best way to avoid a price increase or catastrophic bourbon shortage, announced over the weekend that the company had reversed its decision and that its great legacy of 45 percent ABV will continue for the immediate future. And they're feeling pretty contrite.
CEO Bill Samuels Jr. issued this statement with Rob, his son, and the company's COO:
Dear Friends,

Since we announced our decision last week to reduce the alcohol content (ABV) of Maker's Mark in response to supply constraints, we have heard many concerns and questions from our ambassadors and brand fans. We're humbled by your overwhelming response and passion for Maker's Mark. While we thought we were doing what's right, this is your brand - and you told us in large numbers to change our decision.

You spoke. We listened. And we're sincerely sorry we let you down.

So effective immediately, we are reversing our decision to lower the ABV of Maker's Mark, and resuming production at 45% alcohol by volume (90 proof). Just like we've made it since the very beginning.

The unanticipated dramatic growth rate of Maker's Mark is a good problem to have, and we appreciate some of you telling us you'd even put up with occasional shortages. We promise we'll deal with them as best we can, as we work to expand capacity at the distillery.

Your trust, loyalty and passion are what's most important. We realize we can't lose sight of that. Thanks for your honesty and for reminding us what makes Maker's Mark, and its fans, so special.

We'll set about getting back to bottling the handcrafted bourbon that our father/grandfather, Bill Samuels, Sr. created. Same recipe. Same production process. Same product.

As always, we will continue to let you know first about developments at the distillery. In the meantime please keep telling us what's on your mind and come down and visit us at the distillery. It means a lot to us.
The elder Samuels noted last week that while mulling over the initial decision to water its product down, it had conducted several tests and determined that there was no taste difference between bourbon that was 42 percent ABV and the traditional 45 percent ABV. Behind the scenes, Samuels intimated that other distilleries had already deployed a similar tactic behind the scenes in order to cope with a sudden, dramatic demand for premium domestic whiskey and bourbon. "All the other companies that have taken a similar move," he told the writer Fred Winnick, "for whatever reason, have tried to slip it under the radar screen."
You spoke. We listened. [Maker's Mark]
Earlier: Maker's Mark Is Watering Down Its Bourbon