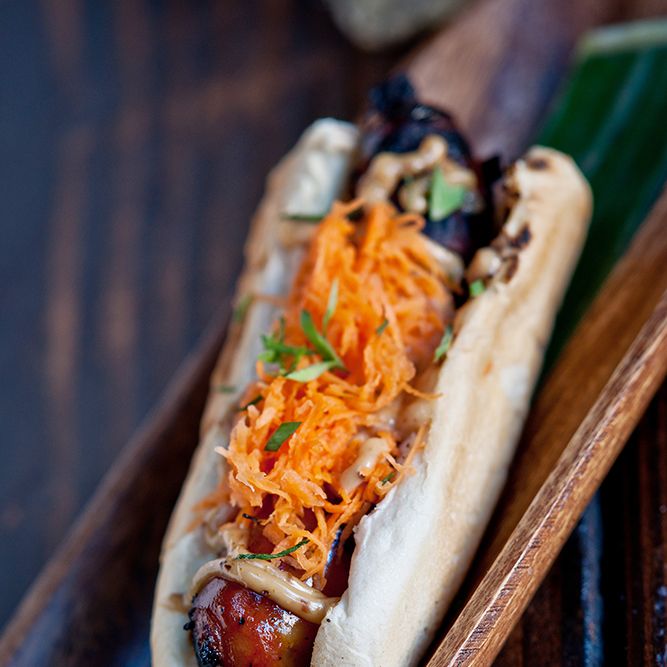 The restaurant's longga dog.
Photo: Noah Fecks
Well-liked East Village Filipino restaurant Maharlika was temporarily closed by the Health Department following a January 29 inspection filled with several critical food-safety violations, the Local East Village reports, including evidence of mice and roaches. The 64-point report was enough to forcibly close the restaurant, and signs posted on the door yesterday indicate a gas leak had caused the shutdown.

Owner Nicole Ponseca tells Grub Street today that the majority of the food-safety violations stemmed from conditions in the restaurant's basement. "A portion of the basement is a shared space," she said, noting the restaurant had previously received an "A" grading. "There's another tenant, and we didn't realize that the Health Department would look at the entire thing."
Ponseca says her crew at Maharlika have taken the appropriate steps to fix the issues and the restaurant is currently waiting on the Health Department to return. "We have to wait for an appointment," she said.
In the meantime, patrons are encouraged to visit sister restaurant Jeepney, and Maharlika will have a pop-up dinner at Ugly Kitchen tonight, just a few doors down the block.

Health Department Shuts Down Maharlika [Local East Village/NYT]
Earlier: What to Eat at Maharlika, Popping Up to Serve Filipino Brunch in the East Village