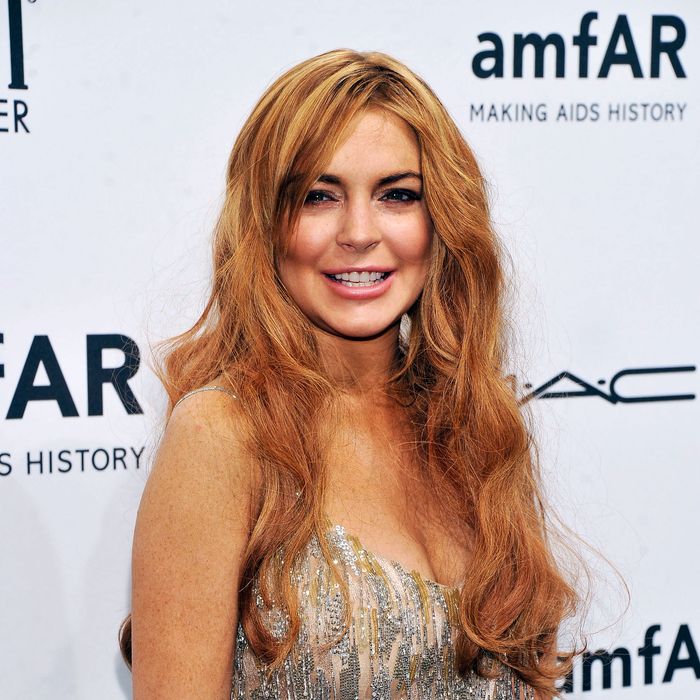 Lindsay got her freak on at Goldbar.
Photo: Stephen Lovekin/Getty Images
Actresses, athletes, and pseudo-celebrities alike visited familiar hot spots this week; the star-studded Cipriani Downtown and Del Posto both sat relevant clientele. Lindsay Lohan stumbled out and graced Goldbar with delightful PDA, while Katie Holmes and Suri frolicked through the Upper West once again, stopping for ice cream at Sugar and Plumm. This, and more, in our weekly roundup of celebrity dining.
Bagatelle: Theophilus London celebrated Genevieve Jones's
birthday at this meatpacking nightclub on Wednesday night. [NYDN]
Birdland: Liza Minnelli and Barry Manilow cheered for Minelli's sister Lorna Luft's debut gig at this swanky Hell's Kitchen jazz joint. [Page Six/NYP]
Cipriani Downtown: Mariah Carey and Nick Cannon left the twins at home and ventured out for date night. [Page Six/NYP]
Del Frisco's; Retired Giants linebacker Carl Banks was spotted at midtown's most elegant meat locker. [Page Six/NYP]
Del Posto: Jim Dolan, Harvey Weinstein, and John Sykes were honored by the Robin Hood Foundation and Clear Channel at the Italian restaurant. [Page Six/NYP]
Dos Caminos: Jennifer Hudson hit up the Park Avenue South to get her guacamole fix. [Page Six/NYP]
Goldbar : Lindsey Lohan was spotted at this Little Italy lounge with new lover D.J. Julian Cavin. Sleuthing sources told the post they were "acting like a couple," and mentioned Josh Groban was also in attendance. [Page Six/NYP]
Jo's: Dana Delany stopped at this Elizabeth Street bistro. The Desperate Housewife showed great maturity while ordering a "G Spot Cocktail." [Page Six/NYP]
The Royal: Knick Iman Shumpert and Nets assistant coach Popeye Jones ordered a Domino's pizza to the Union Square bar. [Page Six/NYP]
Sugar and Plumm: Katie Holmes and Suri "devoured" ice cream at this Upper West dessert shop. It seems to be a favorite of theirs. [Page Six/NYP]