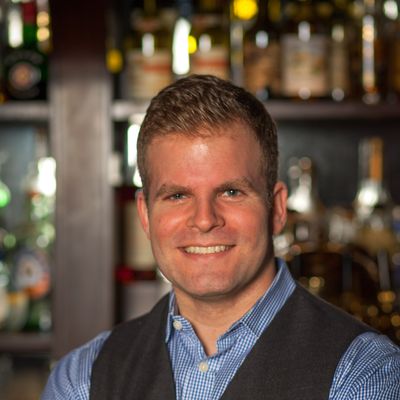 Robitschek.
Photo: Nathan Rawlinson
Leo Robitschek, the bar manager for the NoMad and Eleven Madison Park, is one of the city's best barmen. (The bar at the NoMad is a semifinalist for outstanding bar program in this year's James Beard Awards.) But lately Robitschek finds himself spending more and more time on soft drinks — not soda, but bespoke proof-free cocktails stemming from growing customer demand. "I ran the numbers last year from the previous year and the sales went up 400 percent," he says. "Just in one year alone." We sat down to talk about how he got started, the recent surge in alcohol-free drinking, and why booze-free cocktails are so damn harder to make.
Where did you start bartending?
I was at Eleven Madison Park right before the turnover happened in 2006. At the time, it was more like a two-star bistro. It had this amazing, gorgeous space. It didn't really have a great cocktail program. It just had good service and decent food. And Danny Meyer said, "This isn't ever what I imagined it to be. I want this to be —
He wanted to take it up a notch.
Yeah. So he went in and found chef Daniel [Humm]. He says that he ate at Daniel's restaurant in San Francisco and he had the best foie gras that he's ever had in his life. Then shortly after that they brought Will Guidara over. Will was a young GM at the Modern who was coming through the ranks of the Danny Meyer world. They ended up being the perfect match for each other. They balance each other.
They ran the restaurant in such a way that they knew they wanted it to be one of the best restaurants in New York City. They just wanted it to be better and better. I was working as a bartender and eventually they came up to me and said, "I want this to be one of the best bars in the world. I want it to be like Milk and Honey." This was about seven years ago.
Milk and Honey was a much smaller place, and the place was about sitting there and waiting and waiting for a drink.
We're in a restaurant and no place was ever doing high-volume bespoke cocktails. And you can't have somebody sit down in a dining room and wait like that. You have a little more leeway now, but back then even seven minutes was a long time. Now seven minutes is standard if you're going to get a cocktail.
How did you do the drink research?
I started doing cocktails about, maybe, eleven years ago. I left the finance world and I was working at SushiSamba. What was popular back then, '01 and '02, was the citrus-based fun cocktails. You know, like, mohitos and caphiranias. It was one of the first places I worked that used all fresh juices. They had tons of fruit that they were muddling; everything was completely fresh. Nothing came from a can. They'd juice guava; they'd juice everything.
It was the Sex and the City cocktail Zeitgeist. Wasn't this around the time everybody started drinking sidecars and stuff, too?
When I was at EMP I got really into it and started messing around and making whatever classics I could find. And we changed our menu from being the stagnant menu that hadn't changed in seven years to being a list of classics.
I think a big issue that people have is that they create this amazing — or what they consider to be an amazing bar program — but their staff isn't up to par yet. So they make all these drinks but they make them incorrectly. So this allowed the staff that we had to learn how to make classic cocktails and make them well. And then from there you gain inspiration. Usually, the next thing you do as a bartender is you start reinventing the classics: "Hey, what if I added this instead of this?" So that allows people to start coming up with and creating cocktails.
So how did the soft cocktail movement come out of that?
There were a lot of people that would ask, "Hey, what can you make me that doesn't have any alcohol?" Because I'm sober, or I'm pregnant, or I'm going to have a tasting menu right now that has wine pairings and I can't have a cocktail or I'll go over the edge. Or, "I'm at a business meeting and these guys want me to drink a shit-ton and I want something that looks like I'm drinking while I'm not."
So that's where it all stemmed from. We were playing, because we now had tools to play with.
Turns out nonalcoholic cocktails are more difficult to make than cocktail cocktails, because you're very limited in what you have. You're limited in a way that's like, "These are the juices that I carry at any given time." You're not limited in what you can create because there are tons of flavors out there in the world. But with alcohol you have things that are shelf-stable: I can add Kahlua for coffee, or green Chartreuse that brings in herbal notes. All these things are stable and right behind me on the bar.
But if you don't have all the stuff, how are you going to create a nonalcoholic cocktail from the six ingredients you have in front of you? So that was more so our big issue: How am I going to incorporate the flavors of gin into this cocktail, or how am I going to make this cocktail taste similar but not just be a sweet, juicy drink? It became interesting: We started making a lot of infusions. Water infusions and syrup infusions. And we started doing a little more behind the scenes that were a little more stable, instead of just doing all fresh juices. I guess we've been doing it for at least five years. We started at EMP and then we brought it over [to the NoMad].
Were those infusions also part of your spirit-based cocktail menu?
Some were and some weren't. So yes, in the beginning there were infusions that we had imported for cocktails. So there were syrups that we were making — like homemade grenadine. Or one of the first things we played with was how to make our own ginger beer for a cocktail. So that was one of the first cocktails that we created. We called it a gingered ale — which we have on the list now.
Ginger is good for nonalcoholic because it's strong.
Yeah, it has a strong note. You could do it with citrus or you could do it without and make just a soda. And then we started playing with honeys. Like, buckwheat honey is just so funky and barnyard-y.
So this is all part of the general artisanal revolution that's happened.
Totally. And you see people like Navarro, which is a vineyard out in California that is producing juice from their grapes. Not like Welch's, where it's a specific style of juice that's been pasteurized. It's fresh juice that has a very short shelf life, like a wine would. Which tastes very different from any other grape juice you've had. And then you have some bitters which are not alcoholic. We have other things that we've made in the past like licorice syrup, black pepper syrup, Szechuan pepper syrup. We've done waters in order to build bases for things that are infused with other things. We've done all sorts of stuff.
How does that affect your regular cocktail menu?
It works back and forth. Sometimes you're inspired to create a nonalcoholic drink from creating a syrup for a cocktail; sometimes you create this cocktail for a nonalcoholic pairing and in turn realize, Oh, this drink would be really good with this. So for instance, here in the summer we had a seasonal rooftop restaurant that was sort of open to the stars and it was a seven-course tasting menu that was all very seasonally driven and we offered four pairings. We offered a traditional wine pairing; we offered a beverage pairing that included beer, wine, and cocktails, and then we offered a nonalcoholic pairing. And that was pretty challenging, so we created a few really fun syrups for this nonalcoholic cocktail pairing, which translated into some cocktails in the next menu.
How popular are the nonalcoholic drinks?
They're really popular. You'd be very surprised. You sell quite a few.
Does it put a different sort of stress on the talents of the bartender?
I guess for a lot of people it is more stressful because if you're not kitchen savvy or you don't like to experiment, then you're limited in what you can create. I would say I can create a cocktail that's in my style more easily than I can create a nonalcoholic cocktail, so you're outside of your comfort zone.
At Eleven Madison Park, when we changed the menu to the extended tasting menu, I have to create sixteen different nonalcoholic cocktails for this menu to pair with the food when people ask for nonalcoholic pairings, so that in a moment you get initial stress. Like, Holy crap, gotta have sixteen cocktails.
And you can't rely on the spirits. Sometimes having borders on things is good because they focus you.
There was a course that was clams with melon and cantaloupe, and it also had clam gelee and cucumber — so there were some pickle flavors and some fresh melon flavors. And I'm like, How the hell am I going to create something for this?
I knew I wanted to do something with cucumber juice, but when you juice cucumber you can't really retain the color without getting murkiness. And all of us started playing. How are we going to get this beautiful green color, get it to be crystal clear and see-through and not be murky and like swamp water? So we started using the Cryovac, which is the machine that takes out all the air from food so you can vacuum-seal it. So you start using that to compress the juice and that brings out all of the air from it and all of the particulates come to the top and you start it off. And it looked like the most simple cocktail on the menu because it tasted like the most amazing cucumber juice you've ever had. But it was cucumber juice, salt, and Italian cherry black pepper syrup that was combined together. And we had to compress the cucumbers eight times; it took quite a while just to get even a quart of juice. It took like four hours of work.
Now I'm starting to realize why cocktails cost so much these days.
Well, there's a lot more behind it.