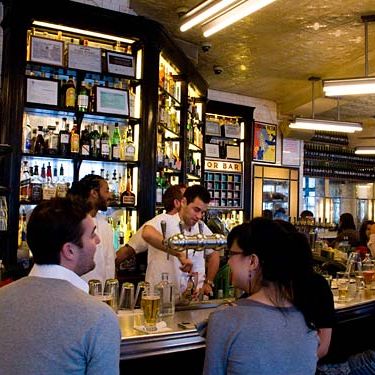 Schiller's will offer its regular menu, but delivery is available, too.
Photo: Gavin Thomas
It's two days before The Most Romantic Night of Your Life, and you completely forgot about the (Hallmark) holiday. Oh, shit. The worst part is that it's one of those nights where everyone goes out, so most restaurants trot out overpriced, subpar food. But we've got you covered with two plans of attack that are more or less guaranteed to not suck: Restaurants that will just offer a regular menu and avoid the prix fixe, hokey, pink-colored bullshit, and great places that unexpectedly offer delivery. Whatever your Valentine's Day plan is, Grub's got your back, ensuring that even the most romantically challenged folks can get some on Thursday.
If You Want to Go Out to Eat:
These casual restaurants won't force you to order "aphrodisiac" foods; they're only offering their normal menus. They don't take reservations, either — and since this is one of the most booked-up nights for restaurants, you'll be on equal playing field with everyone else who's winging it. Impress your date by showing up early and putting your name down for a table ahead of time. For a New Yorker, that's the most romantic thing you can ever do.
1. al di la
2. Aria Wine Bar
3. Caracas Arepas Bar
4. Fatty Crab
5. Fletcher's BBQ
6. Frankies 457
7. franny's
8. Hill Country
9. Ippudo
10. Jack's Wife Freda
11. Lil' Frankie's
12. Mission Chinese
13. Pies-N-Thighs
14. Prime Meats
15. The Spotted Pig
If You Want to Stay In and Order Food:
It's a great idea to eat at home tonight and avoid the madness entirely. And just because you're spending your romantic evening on the couch, it doesn't mean you have to opt for the usual greasy delivery order — or spend hours in the kitchen trying (and failing) to properly roast a chicken. Some of the more elegant restaurants around town surprisingly offer delivery service, even on a busy night like this. You and your date will get to enjoy good food without the distraction of balloons and strangers spooning food into each other's mouths.
1. Frank
3. Kin Shop
4. Galli
5. 'ino
6. Landmarc
7. Maloney and Porcelli
8. Miss Lily's
9. Morandi
10. Motorino
11. Otto
12. Pastis
13. Salume
14. Schiller's Liquor Bar
15. Zabb Elee