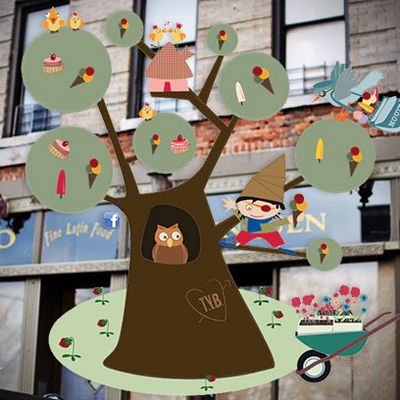 We imagine it'll look something like this.
Photo: Hugh Merwin/L'Albero Dei Gelati
A branch of the Lombardy-based gelato shop L'Albero Dei Gelati will open in Park Slope, the trade site Reed Gourmet reports. Sources tell Grub Street the import is headed to the former El Sitio Borinquen, at 341 Fifth Avenue, in early May. The mini-chain already has shops in Cogliate and Seregno, where a perpetually shifting lineup of local fruits and vegetables are turned into gelato, ice cream, pastries, and ices, and if the thought of yet another frozen-dessert place putting down roots in the middle of that great big municipal fro-yo wasteland known as Brooklyn has already got your eyes rolling, perhaps just read on: This place seems infinitely lovable right out of the gate, sweet and offbeat, a bit like the strange love child of Grom and Humphry Slocombe.

Sibling owners Monia and Fabio Solighetto are second-generation ice-cream-makers, it turns out, and Monia is moving to Brooklyn with her husband Alessandro Trezza, the shop's third partner who happens to create the recipes. L'Abero's plans for New York reportedly include a backyard garden, classes for children during the day, and a biodynamic wine program at night. In Italy, Trezza devises a menu of savory gelatos, which often include sour and salty flavors, with wine pairings in mind.
The shop, which even operates solar-powered ice-cream carts in Italy, adheres to Slow Food tenets and won't, for example, serve strawberry gelato when persimmons are in season. Back home, Trezza has won all sorts of awards for flavors like Stracchino cheese and dates and sourdough that may seem outlandish, but invariaby point to classic, regional flavor combinations. On the traditionalist, sweet side, there are flavors like ricotta with Calabrian bergamot, fior de latte with edible flowers, pumpkin and amaretto, and marscapone and chocolate chips. Most base ingredients are organic, and many are raw.
Things also get funky, with flavors like zabaglione with marsala and coffee, celery and cardamom, smoked salmon, and salty cabbage with apple vinegar and mustard. The shop has served Robiola, radish, and once even mushroom risotto flavors, and every once in a while there's even a variety made from Puzzone di Moena cheese, whose name translates to "smelly cheese of Moena." It goes great with a spoonful of chestnut honey and a glass of cool orange wine, or so they say.
Nuova apertura dell'Albero dei Gelati a New York [Reed Gourmet]