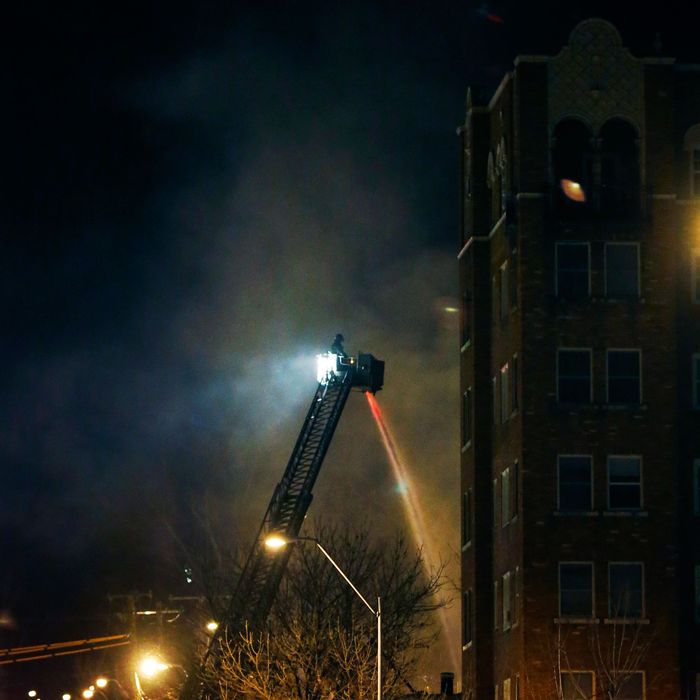 Authorites searched through the rubble last night and this morning.
Photo: Orlin Wagner/AP/Corbis
Kansas City Mayor Sly James has announced that an unidentified body has been recovered from the site of the former JJ's restaurant, USA Today reports, where last night a gas main explosion destroyed the landmark venue at 910 West 48th Street, near Country Club Place, a popular shopping area. It's been widely reported that a contractor working locally for Missouri Gas Energy may have hit a gas main near the construction zone opposite the restaurant, causing the massive explosion that leveled the premises. One server sought treatment after being hit with a rock that came hurtling from the the site, and fourteen others sustained injuries.
Cadaver dogs were used to search the rubble last night, and then brought in again this morning to find the only employee who was unaccounted for, said to be a hostess at the restaurant. While the identity of the body has not yet been released, Springfield resident Ann Keyes, who had spread the message about the missing woman on behalf of her family, announced earlier on Twitter that the "search was over."
Official: Cadaver Dogs Search In Kansas City Blast [NPR]
Kansas City restaurant fire rubble searched for missing woman [Reuters]
Body found in rubble of Kansas City gas blast [USAT]