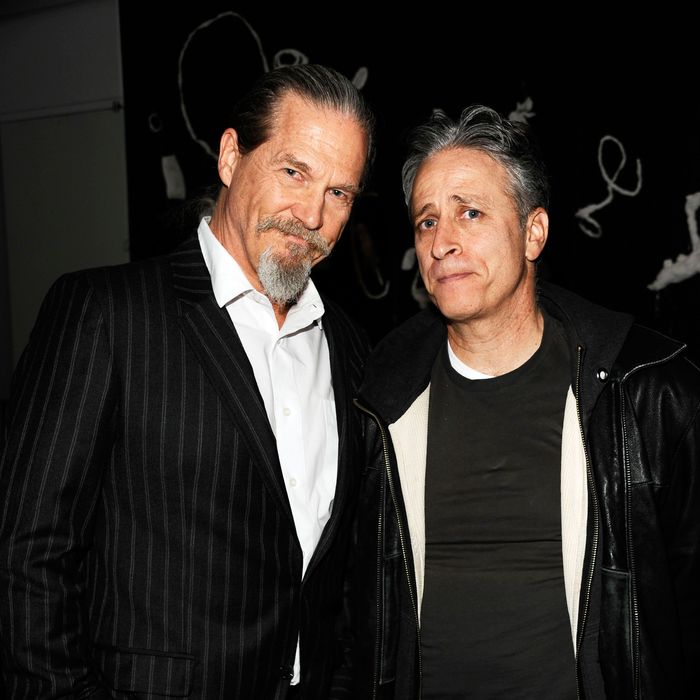 Like a 'My Two Dads' remake waiting to happen.
Photo: Clint Spaulding/PatrickMcMullan.com
Tom Colicchio isn't the only big name involved in A Place at the Table. Jeff Bridges has been involved in the fight to end hunger for three decades and appears in the film. At last night's premiere, we caught up with him and Place supporter Jon Stewart to talk about the film, the world's hunger epidemic, and Europe's meat problems.
What is your point of view on ending hunger and how did you become involved with this issue?
Jeff Bridges: Well, this started 30 years ago, when I helped create an organization called the End Hunger Network, which was primarily focused on ending world hunger. Then, about twenty years ago or so, we shifted our focus to ending hunger here in America. And a few years ago, I become a spokesperson for Share Our Strength's Campaign: No Kid Hungry.
 
Really?
JB: Yes, and I found it was a really fresh way of dealing with hunger. It sidestepped the need to raise more money and create new programs. This utilized the over billion dollars of federal funding available to the states that was not being used. And No Kid Hungry was about going to states and working with governors and the private sector to find out the blocks that prevent kids from utilizing food programs. I think the main thing is having breakfast in the classroom, plus summer meals and lunch programs.
 
So, what steps need to be taken to end hunger?
JB: Well, when I was made aware of the enormity of world hunger, I understood that it was not about not having enough food or enough money.
 
What's it about then?
JB: In countries that ended hunger, it's about creating the political will. And I think that's basically still true. But there's an earlier, more important step that creates the political climate. Politicians are our representatives, so it's really about each individual looking into their heart and saying, What am I willing to do?
We live in a wealthy country where one out of every five kids struggles with hunger, and we know that there are ways to end it. So it's not about just making a contribution of a couple of bucks to scratch a guilt-itch, but it's about really looking into your life and finding out how you can help.
For me, in my life, I'm in the entertainment business, and I deal with [the media], so that must have a role in helping end hunger. You are a reporter, and there's a lot you can do to sustain the awareness of this problem. So I hope people that see this movie do things that fit in with daily lives to help solve this problem. We should live in a country where all the kids are fed. Kids are our future. It's not only a moral issue, but it's an issue of patriotism. We can't move into the future if our kids aren't in good shape.
Also in attendance last night was Jon Stewart. But when we caught up with the Daily Show host, we wanted to know his thoughts on some of the world's other pressing food issues — namely the horsemeat scandal and Budweiser dealing with accusations that they water down their beer.
What's your take on the horsemeat scandal?
Jon Stewart: Somewhere along the line, we decided that cows were fair game and horses are not. And somebody broke the covenant. We don't know who it was and we don't know when they did it, but the covenant is broken.
 
Would you consider eating it?
JS: I'm sure I have! The way this thing is going, I imagine it's made up a good portion of my diet for the past twenty years!
 
Too true. And, speaking of food scandals, any thoughts on Anheuser-Busch being sued over selling watered-down beer?
JS: Well, I think that suit is being appealed. But, now that I know, I'm going to have to start watering down all of my beer, because I've always been a Budweiser man.
 
And, with your busy schedule, what are your eating habits like? Any must-have comfort food?
JS: I have small children, so I eat what they eat. I have a Skittles- and pizza-based diet.
Related: Tom Colicchio on His New Movie and Ending Food Insecurity in America