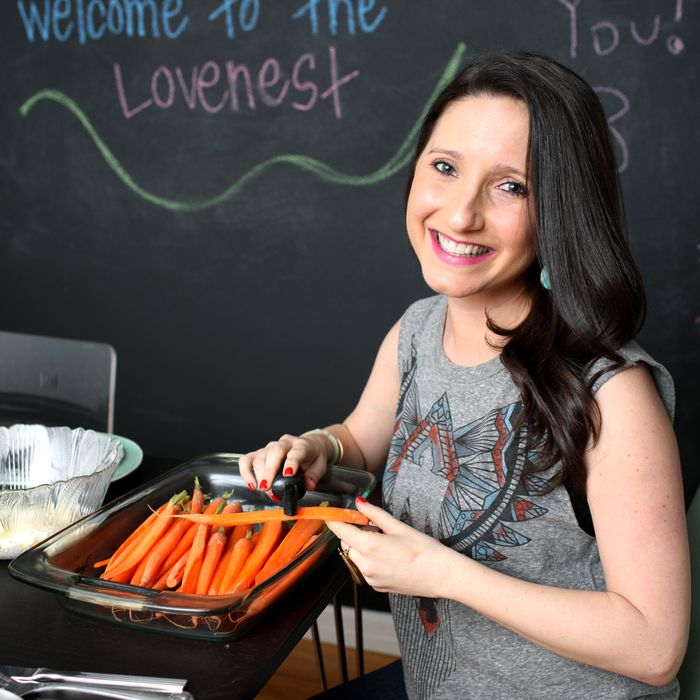 "As soon as I got home, I put carrots in the oven to roast."
Photo: Melissa Hom
Before you've even rolled out of bed, NY1 traffic reporter Jamie Shupak has already completed the bulk of her work for the day. Her morning news job calls for a 3:26 a.m. wake-up time, and by noon, it's a wrap. So how does one maintain a sense of normalcy with such a crazy work schedule? Jamie finds time to spin, cook for her boyfriend (the Times' Brian Stelter), throw dinner parties, and, of course, power nap. She's recently started her own food blog, too. "I never want to come off like I'm a professional or I have any real idea what I'm doing," she says. "But I can follow a recipe and I like good, healthy food." Health is important to Jamie; both her rheumatoid arthritis and her regimented schedule pose food limitations, but that doesn't stop her from enjoying meals at Marea and Red Rooster. Read on for Il Buco Alimentari octopus, Goop-endorsed shakes, and Trader Joe's salsa in this week's New York Diet.
Friday, February 15
I had off work, so the biggest treat was staying out a little later than usual and having an extra tequila the night before at Red Rooster for Valentine's Day with Brian [Stelter]. I started with the fried oysters, and then had the chop suey. He had crab cakes and fried chicken.
I love cooking a big breakfast, and I usually only get to on the weekends, so this was nice. I had a bunch of odds and ends veggies, so I made an egg scramble with shallots, poblano and jalapeño peppers, tomato, and avocado. I poured some Trader Joe's salsa verde over the eggs. That, plus a ton of Trader Joe's jalapeño hot sauce, and I'm in heaven. I'm not scared of much, but I fear the day they discontinue either of those products.
Then we went ice skating at Wollman Rink in Central Park, and Brian took me to Marea for lunch. I've always given him shit for taking two or three different girls there on first dates because it's this fancy uptown place — just the absolute worst first date spot. I had tuna tartare, and then the black sea bass. He got the spaghetti. We're both on a "Book Diet" right now, trying to get hot bodies for when his book comes out in May. He has such better discipline at restaurants than I do, so I wound up eating half of his spaghetti.
We went food shopping at Whole Foods for our dinner party the next night. I can't leave Whole Foods without grabbing those shrimp summer rolls that are premade at the sushi counter. That sweet chili sauce is one of my favorite things. I had those for dinner.
Saturday, February 16
I usually have a green juice that I make at home with my Vitamix before FlyBarre class, but I bought this Tracy Anderson Wellness shake thing online after seeing it on Goop. I'm a sucker for that kind of thing. I had that with vanilla rice milk and some coconut milk yogurt. It actually kept me full all day while I was cooking for my dinner party.
The only other thing I had was this crazy Chinese tea I drink every day. It's from my acupuncturist for my arthritis, and it is magic. It's boiled-down herbs, and it looks like shit, smells like shit, and tastes like shit. But I chug it and it works.
We had six friends over for dinner. I made roasted carrots with yogurt-onion dip; stuffed baby portobello mushrooms; a salad with arugula, fennel, grapefruit, and pine nuts; cioppino; and bread. And lots of tequila. It's all I drink — on the rocks, squeeze of lime, splash of agave. Best and only drink.
Sunday, February 17
Brian went and picked up breakfast for us at our local greasy spoon, La Bonbonniere. I had an egg sandwich with avocado, lettuce, and tomato on whole-wheat toast.
I made more granola for the week, and we had leftover stuffed mushrooms for lunch.
We ordered in Ditch Plains for dinner. The deviled eggs and spicy salad with shrimp are to die for. I don't know what's in that dressing; I need to call and find out so I can re-create it at home. On Sunday and Monday, I try to be in bed by 9 p.m. or earlier. If I start the week off on the wrong foot, it'll eat me alive and make me a miserable human being.
Monday, February 18
My alarm goes off at 3:26 every morning. I don't drink any coffee; it frightens me. Zero caffeine is partially what allows me to survive on my schedule. I get to work at 4 a.m., do my hair and makeup, and the show starts at 5 a.m. I brought a Tracy Anderson shake with me. It's hard to eat too much when I'm on air every ten to fifteen minutes for eight hours. It can't be too messy or require too much prep; it needs to be fast, simple, and neat. If I spill something, I'm screwed. I start drinking the shake at 5:30 a.m. or 6 a.m. I try to hold off as long as possible to push myself to be on a normal schedule like the rest of the world.
I won't have lunch until 10 or 11 a.m. It's still early, but at least I'm not eating at 7:30 in the morning. The schedule takes an incredible amount of discipline and preparation, especially when it comes to food. I had Wasa cracker sandwiches with hummus, cucumbers, and this yummy slaw I made from cabbage, rice wine vinegar, and lime.
I went to spin class on an empty stomach and I felt great on the bike, but after, I was super lightheaded. As soon as I got home, I put carrots in the oven to roast and whipped up some more of the same dip we had on Saturday night. I made a salad with black cod, arugula, sauteed onions, fennel, and homemade spicy dressing. It's like a version of Ditch Plains' dressing, but not. It's made of vegenaise, juice of a lemon, sriracha, and a touch of soy sauce. Too much soy and it's garbage. I've always wanted to bottle and sell it. One of these days.
Tuesday, February 19
Another Tracy Anderson shake, then an apple, and then the same Wasa cracker sandwiches at work. I work from 4 a.m. to noon every day. Then, I walk home, watch The Daily Show from the night before, and take a power nap.
After my nap, I had some yogurt and granola, and then met this wonderful girl Carol of Milk and Mode at Il Buco Alimentari. It was a perfect first date. We met on Twitter, which sounds creepy to people not on it. But I met Brian there — well, he found me there. I love everything about Il Buco: The decor, the people, the food! She talked me into this fabulous white wine, which was a big deal because I really only like to drink tequila, but it was great. Super refreshing and light. I had the octopus appetizer and it was delightful.
Wednesday, February 20
Another Tracy Anderson shake. You find something that works and that's healthy, and you just stick with it. I had some yogurt and granola at work, too, before my Wasa cracker sandwiches. I know I'm lucky that I'm conditioned to eat healthily, but it's also a function of my arthritis and my schedule. I can't afford to eat shit because I'll never have energy to make it through the day.
I had a Kind Bar before my FlyBarre class, and then came home and made myself this stir fry with all kinds of mixed veggies, sprouted tofu, and spicy curry sauce. Brian's away, so I could make it super spicy. I'm still training him to eat food as spicy as I do. I threw in some walnuts and cashews, and it was better than anything I would have ordered in. Then, before you know it, it's around 9 p.m., almost bedtime.