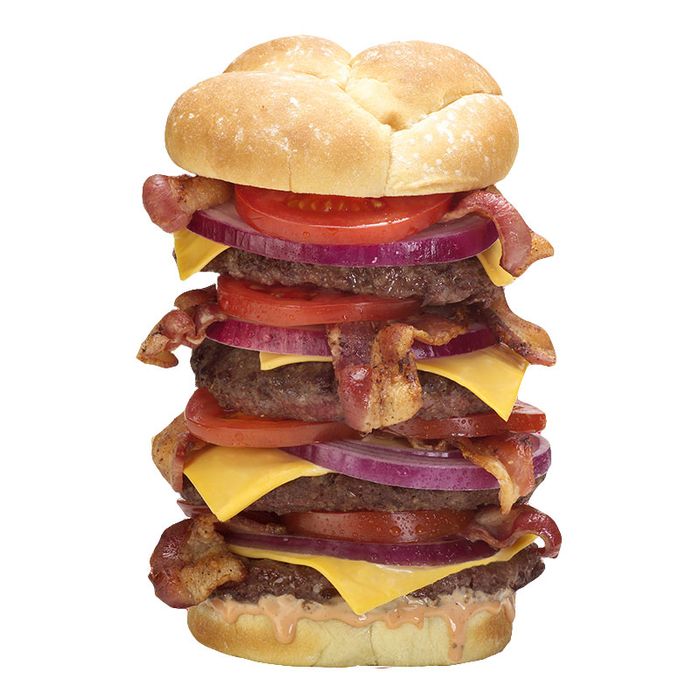 The Quadruple Bypass Burger.
Photo: Heart Attack Grill
John Alleman, a 52-year-old unofficial spokesman for Las Vegas's death-happy Heart Attack Grill, has died after suffering — yup — a heart attack. Alleman reportedly ate at the restaurant nearly every day, despite owner "Doctor Jon" Basso's warnings that Triple Bypass Burgers really weren't everyday food. This follows two similar incidents last year. How long before someone takes action here?
Alleman's death follows several previous fatal and near-death incidents connected to the restaurant. In March 2011, the 575-pound official spokesman for the restaurant's original Arizona location died at the age of 29, just four months after taking the job. Basso said he was devastated by the news, but quickly relocated the restaurant to Las Vegas.
Following the move, in February 2012, a man in his forties went into cardiac arrest while trying to finish a Triple Bypass Burger, and was wheeled out to an ambulance. The incident got international press.
In April of that year a woman fell unconscious at the restaurant while allegedly eating, drinking, and smoking. Basso beamed in the L.A. Times about all the publicity, referring to the sort of people who would order the Quadruple Bypass as being "that very bleeding edge, that avant-garde of risk takers."
That same month, the Guinness Book of World Records awarded the Quadriple Bypass Burger a prize for "most calorific burger," clocking in at 9,982 calories.
This post has been updated with additional information.
Heart Attack Grill spokesman dies from heart attack [Las Vegas Sun]
Earlier: Heart Attack Grill Owner Delighted That Diners Keep Heading to the Hospital
Heart Attack Grill Customer Goes Into Cardiac Arrest; Jamie Oliver Finds a Hidden Fortune