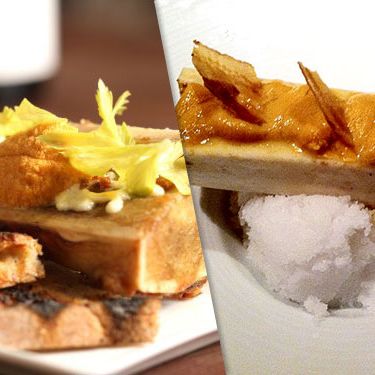 The Marrow's uni marrow on the left; at right, Le Bernardin's bone marrow with uni and bacon.
Photo: Melissa Hom, infinism/Instagram
Many critics, including New York's Adam Platt, visited Harold Dieterle's the Marrow for their columns this week. In his review, Platt called out the restaurant's "stodgy, ­canoe-size marrowbone, topped, less elegantly than at Le Bernardin, with smudges of faintly overcooked uni." Because of the similarities between the two dishes, but moreover perhaps because Dieterle's version is emblematic of his West Village restaurant on the whole, some eagle-eyed diners were also quick to suggest that the similarities between two marrow-and-uni plates was more than a coincidence. One is garnished with celery leaves and the other has crisp bacon spokes, sure, but could the Marrow have based its marrow on a very similar dish served at Le Bernardin?
@pete_wells @nytdining @lebernardinny complain"the marrow"copycat our marrow-urchin dish. I said Cheers guys it s the ultimate compliment :)— Eric Ripert (@ericripert) February 26, 2013

"@jaymcinerney: @ericripert @lebernardinnyImiitation is the highest form of flattery"Indeed…THX for U R support & concern…— Eric Ripert (@ericripert) February 27, 2013

Ripert and Dieterle are two of the kindest people in the industry, so the idea of a beef brewing between them is preposterous. But it does raise the question: When two dishes share two major components or themes, is the one that came second automatically a copycat? Vinegar Hill House offshoot Hillside, after all, sells a split marrow bone roasted with bottarga, another similar, salty, and orange component of the sea. Salt and fat make a good pair.
Grub Street reached out to Dieterle this afternoon. "I was unaware that Chef Ripert offered a similar dish," he wrote in an e-mail, explaining his position. "The brininess of the uni and the richness of the marrow are a great pairing, so I'm not surprised to hear that other chefs have thought of it, too."

Earlier: Platt: At the Marrow, Harold Dieterle Mines His Two Ancestral Cuisines
Related: The Other Critics: Platt, Wells, and Sietsema Divided on the Marrow; Sutton Pans the General