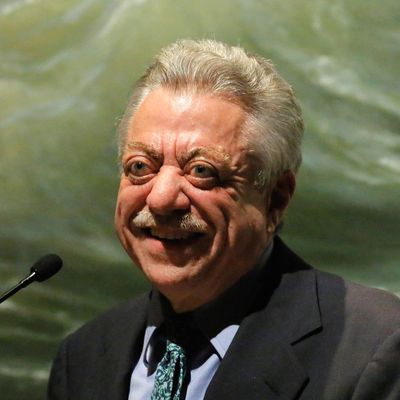 Richman doesn't care if his waiter smells.
Photo: Jemal Countess/Getty
It's a big day for lists! GQ critic Alan Richman dropped his roundup of the country's top twelve restaurants, which are places he identifies as "casual, kindhearted, original, and a little too loud." Richman deems fine dining a "democratic institution"; his idea of a perfect night out includes eating off cutting boards and waiters wearing dirty T-shirts — not wild foraged ingredients or twenty-course prix fixe menus. And by omitting Mission Chinese Food, his list is by default different than most others of its kind. Last year, L.A.'s ink took the top spot, and the crown now goes to Little Serow, a Thai restaurant in Washington, D.C. Check out where else to go if you want to feel "coddled, welcome, and well fed," ahead.
1. Little Serow, Washington, D.C.
2. Hog & Hominy, Memphis
3. Vedge, Philadelphia
4. Cúrate, Asheville, North Carolina
5. Uchi, Houston, Texas
6. West Bridge, Cambridge
7. Oxheart, Houston
8. Central Kitchen, San Francisco
9. Bäco Mercat, Los Angeles
10. St. Anselm, Brooklyn
11. The Ordinary, Charleston
12. La Vara, Brooklyn
The Perfect Night Out: The 12 Most Outstanding Restaurants of 2013 [GQ]