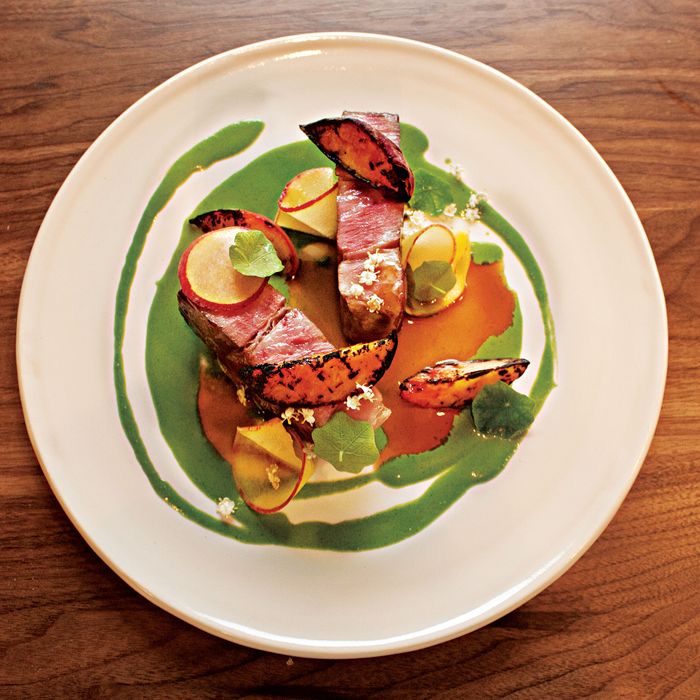 Governor.
Photo: Michelle Feffer/New York Magazine
The Main Street, Dumbo, restaurant Governor, which was immersed in and wrecked by five feet of storm surge during Hurricane Sandy, will not reopen, the Strong Buzz reports. Executive chef Brad McDonald, who also ran the kitchen at sister restaurant Colonie in Brooklyn Heights, has also left the restaurant group, according to a statement from its remaining partners.
Here's what Tamer Hamawi, Emelie Kihlstrom, and Elise Rosenberg wrote:
When hurricane Sandy struck our area several months ago, many people experienced great losses. Our heartfelt prayers go out to all of those who suffered and those who continue to do so.

In the aftermath of this dreadful storm, we assessed the destruction at Governor caused by five feet of water, and we were determined to rebuild our fledgling restaurant. But despite our commitment and the subsequent and remarkable outpouring of support in all forms–from individuals, the restaurant industry and the community, we have, regrettably, been forced to accept that the scope and scale of repairing the damage to our restaurant is beyond our means financially.

It is with a very heavy heart that we must humbly face up to this fact. The response from Dumbo's neighborhood residents, the city at large and the food journalism community regarding our rebuilding effort was gracious, thoughtful and deeply touching to us all.
We will continue to operate Colonie and Gran Electrica and refocus our efforts on making these businesses viable in their Brooklyn neighborhoods for the long term.

Additionally, our chef, partner and friend Brad McDonald has decided to leave our restaurant to spend time with his wife and two young children. This split is mutually agreed upon and we wish him all the best in his future endeavors.

Finally, we want to thank everyone who supported and continues to support our restaurants Colonie and Gran Electrica. With much gratitude, we remain committed to offering our diners a wonderful experience.
After the storm, the restaurant raised many thousands of dollars in order to rebuild and replace its equipment through an online campaign and several guest-chef dinners at restaurants like Momofuku and Eleven Madison Park. Governor's Go Fund Me page is not longer active, however, and it is unclear what will become of the funds that were raised. The restaurant's owners said in November that they were trying to reopen by February. In recent days, it had been reported that Governor's kitchen crew had begun accepting other chef positions elsewhere.
In its brief run, the restaurant was known for McDonald's innovative food and approach to foraged ingredients and fermented foods. The restaurant experimented with making its own cultured butter, house misos, and a condiment made with the grated, umami-rich rind of a farmstead cheese McDonald called "American MSG."
Grub Street has reached out to both McDonald and the restaurant's partners and will let you know what we hear.
Update: Pete Wells hears Governor's owners plan to return the money that was donated toward its recovery effort, and Eater NY reports the same, noting a statement from owners Elise Rosenberg, Tamer Hamawi, and Emelie Kihlstrom stating money received from the online campaign and various events will be refunded "as soon as possible."
Update #2: Pete Wells also reports that Eleven Madison Park owner Will Guidara says his restaurant will offer any guests who attended the $250-per-person-minimum benefit for Governor last November 20 the option to either have their money refunded or channeled into another Sandy-related charity.
Update #3: In conversation with Eater NY, Colonie and Gran Electrica co-owner Elise Rosenberg explains that the decision to relinquish the plan to reopen Governor was difficult. "For the people that paid for the dinners," she says, on the difficulties of refunding some donations, "we're just going to send the checks back to the restaurants, and presumably they have the contact information. We certainly can't figure out how to track them down, much less in other cities."

Update #4: Momofuku, which also hosted a $325-per-person benefit dinner, has not yet commented on today's news, and a reader points out yet another benefit dinner was hosted by Gilt, for $295 per-person in November, but that restaurant has since closed.
"Sad Breaking News: Governor Will NOT Reopen; Chef Brad McDonald To Pursue Other Ventures" [The Strong Buzz via Eater NY]
Earlier: Fort Defiance and Governor Start Picking Up the Pieces
Earlier: Governor May Reopen As Soon As February
Related: Governor Vets Sign On As Co-Chefs at Calyer