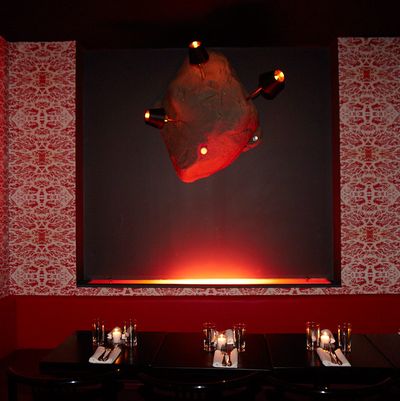 Sexy time.
Photo: Danielle Levitt
You'd never know it if you walked by, but there's a brand-new restaurant-bar on the Bowery. Wise Men, which officially opens on February 13, has no signage, which, of course, makes it all the more alluring. The cocktail consultant is Duane Fernandez Jr., one of the head bartenders at Acme, and Ryan Bartlow, the current executive chef at Frankies 570, consulted on the menu.* Expect a small, simple menu of fifteen or so sharable meat-driven plates. As it turns out, Wise Men is named after the first Western-style steak house in Chinatown, which the owner's family opened.
A team of three creative women, photographer Danielle Levitt, S magazine creative director Christina Chin, and hospitality vet Caroleyn Ng, is behind this place, and it shows in the sexy, architectural decor. Set designer Andy Harman equipped the restaurant (which can fit 74 people) with a twenty-foot mixed marble bar, dark mirrors, red banquettes, chandeliers, and marble flooring, à la Venice. In a bar-heavy area that's all about modernizing, Wise Men's a much-appreciarted nod to old-school New York meat and cocktails.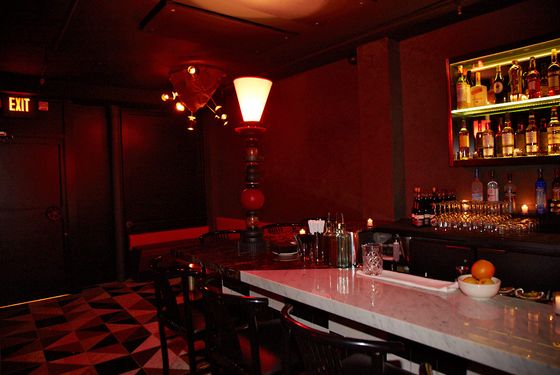 The bar at Wise MenPhoto: Danielle Levitt
Wise Men, 355 Bowery, nr. E. 4th St., no phone
*This post has been revised to clarify that Bartlow consulted on the menu, but is not the chef here.