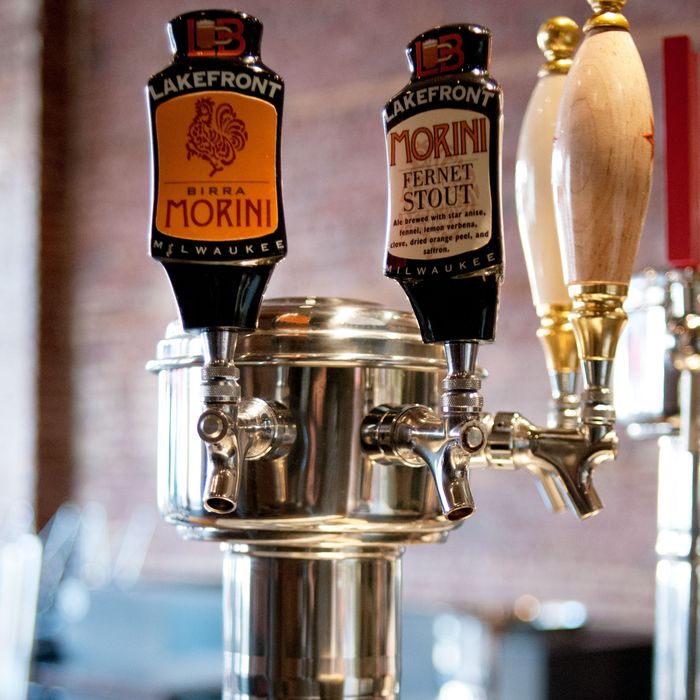 Photo: Gabriela Landazuri/New York Magazine
You might know Eben Freeman, the drinks whiz at Michael White's Altamarea Group and, prior to that, wd-50 and Tailor, as a dedicated cocktail guy. As it turns out, he's also a big ole beer geek. To wit, he's been working hard with Milwaukee's Lakefront Brewery on a stout recipe, and now it's flowing through tap lines at Nicoletta Pizzeria (160 Second Ave., at 10th St.; 212-432-1600) and Osteria Morini (218 Lafayette St., nr. Kenmare St.; 212-965-8777). The pitch-black elixir Freeman has named Fernet Stout after the cult amaro is brewed with star anise, dried orange peel, clove, fennel, saffron, and lemon verbena. It's deliciously bitter, with good balance, a refreshing finish, and a hint of sarsaparilla. Maybe it's the fennel talking, but according to Freeman, it goes nicely with Nicoletta's sausage pie, or a slab of porchetta over at Morini.

This article originally appeared in the February 18, 2013 issue of New York Magazine.