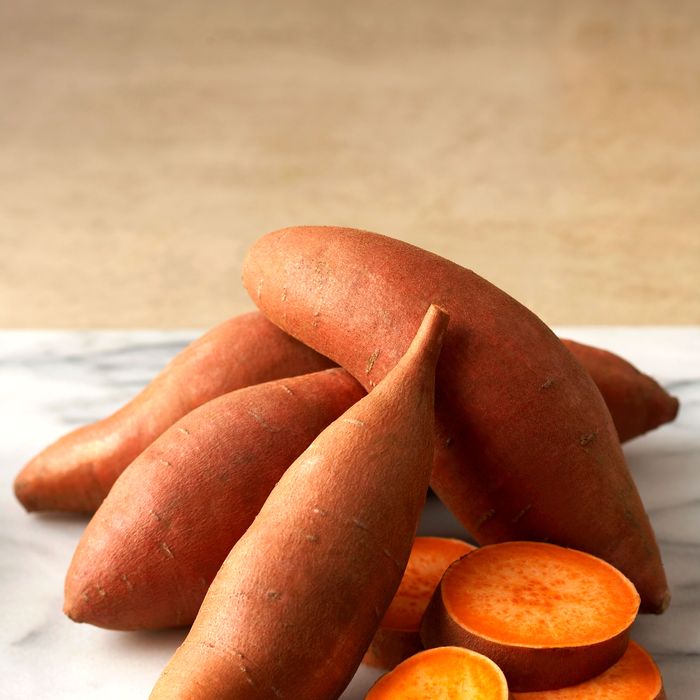 Louro has a roasted sweet-potato dish on its menu.
Photo: Corbis
It's that weird time of year when everyone's really, truly fed up of the cold and ready for springtime. You're probably sick of eating the same rotation of winter vegetables, so this week, try to mix it up with some curries and different pastas. Per usual, we've rounded up good options if you want to go easy on your digestive system. This week, that means new salads at Dickson's Farmstand Meats, carbs at Bar Corvo, and drinks at the Windsor.
Monday, February 25: Order Well at Pinto
Seasonal vegetable options are starting to get pretty tired right around now. But you can reignite your love for squash at Village Thai spot Pinto, where a kabocha curry highlights those sweet, warm flavors. If you can't face another winter vegetable, give up and go for the steak — it's grass-fed.
Tuesday, February 26: Eat Some Salad With Your Meat
The carnivorously inclined can now get some greens at Dickson's Farmstand Meats. Three salads are newly available: chicken Caesar, Thai beef, and a chef salad. Also a great option: The signature rotisserie chicken can be paired with a veggie side, too.
Wednesday, February 27: Order a Lighter Cocktail
Eat Well generally isn't into counting calories, but the low-impact vodka cocktails at the Gansevoort's new bar, the Windsor, might appeal to anyone looking to cut back. The Half Windsor is made with cucumber juice, agave, and lime, while the Bling uses cinnamon-infused agave and fresh apple. Both clock in at around 90 calories, and even better, you can get them at half price on weeknights between 5 and 8 p.m.
Thursday, February 28: Carb It Up at Bar Corvo
Who isn't craving pasta in this cold? Bar Corvo's got you covered, with three carb-y dishes featuring healthy ingredients. Malfatti is enhanced with Swiss chard and walnuts (for immunity and brain health, respectively), ricotta cavatelli comes with mushrooms and kale (for cancer prevention), and a chitarra neri comes with octopus confit and hot peppers (high in protein and a metabolism-booster).
Friday, February 29: Choose Louro for Date Night
Pete Wells reviewed Louro last week, recommending the piri-piri shrimp and the Idaho trout. Other healthy dishes include the duck, which comes with red and white quinoa. You can also order roasted sweet potato with mizuna and pepitas, and a red snapper with bok choy and shiitake mushrooms. Clearly your heart is in good hands at Louro.
Kate Lowenstein is the senior features editor at Health magazine.